Over 250 animals rescued. Over 210 adoptions.
Our featured pet
Jaz is a happy-go-lucky fella who loves a good tussle! He loves to play with the other dogs in his foster home, and has that typical terrier tenacity! He is socializing with other dogs and cats in his foster home, and doing doggie things! Jaz is an especially friendly and curious boy! Jaz is a medium-sized dog, so he would make a great addition to a family with small children or for a family with a small living space. He is also completely crate-trained/house-trained! Adopt Jaz today!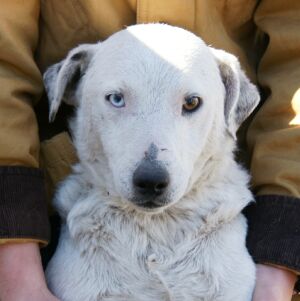 News
The HSEC has now adopted out over 210 animals!! Thanks so much for helping us to reach this milestone! We are thrilled to be able to make a difference in the lives of so many animals and in the lives of the people that love them. We could not continue this important work without the support of our faithful donors. Thank you for believing in the work that we are doing. Your support definitely makes it possible!
Help us win a $20,000 Grant!
Search for "humane society" Claxton, Ga and give us your vote!
Fostering
In case you can't adopt a pet permanently, we love for people to volunteer by fostering a pet in their own home. Please contact us, and we'll be happy to talk with you about this rewarding experience. In addition, you can now sponsor a pet for a small donation each month. Your gift will be recognized on our website, and you'll receive a personalized thank you from your sponsored pet. If you are interested in participating in this program please email us at:
hsecadoptions@yahoo.com.

Volunteer Opportunities
If you are looking for other ways to help, we love volunteers!! Whether you're computer savvy, an animal trainer, or anything in between, chances are that we can put you to work! Please contact us for more information. Even if volunteering isn't your thing, you can still help. Donations of food, bowls, toys, leashes, collars, dog crates, dog houses, dog pens, and any other pet item imaginable are always appreciated.
Facilities Update
We had previously planned to build our own animal shelter in Evans County. Since this organization was started in 2003, we have learned a lot about the scope of the pet overpopulation problem in Evans County. There are many more needy dogs and cats than we ever realized. Despite our best efforts, there are never enough foster homes to accommodate the many phone calls that we receive concerning the stray and abandoned animals in our county. In response to this overwhelming need, we kicked off our low-cost spay/neuter program in the fall of 2006. Since that time, we have funded over 120 low-cost spay or neuter surgeries for the residents of Evans County. What started as a program with one local veterinarian has expanded to a program that now sends clients to 3 veterinarians! We are extremely proud of the progress that we have made by preventing litters of puppies and kittens from ever being born. We now see that we cannot adopt our way out of the overpopulation problem. The only way to get a real handle on the number of animals that are on our streets is to prevent them from ever being born. That is why we have worked so hard to make spay and neuter surgeries affordable to the people of Evans County. If you would like to assist us with providing a low-cost spay or neuter surgery to someone in Evans County that otherwise would not be able to afford it, please email us about our "Sponsor a Spay" program. A donation of only $40 will provide the funds needed for one surgery! Feel free to donate to this program through the Paypal button above. Just be sure to designate your donation appropriately. Please join us in the fight to end pet overpopulation by making a donation to Spay Evans! This donation will definitely be used to save lives and prevent the suffering of many animals.
With the money that was previously earmarked to be used to build an animal shelter, we hope to purchase a used, mobile spay-neuter vehicle that will enable us to expand our spay and neuter efforts and to bring the surgeon to the people and their pets literally! Stay tuned for more updates on this endeavor!
Who We Are
The Humane Society of Evans County, Ga, Inc. is a network of foster homes located in Claxton, GA. This rescue effort was started in February 2003 and has continued through the tireless efforts of a small group of unpaid volunteers in order to combat the terrible overpopulation problem in our community. Because we do not have a facility, our pets are fostered in various homes throughout our area. This makes it a little more difficult to allow our potential adopters to meet all of the dogs that we have in foster care, but we feel that the training, love, attention, and socialization that our pets receive in our foster homes is well worth a small amount of inconvenience. We are very willing to set up a time for you to meet one of our pets for adoption in the evenings or on the weekends. All that we ask is that you submit your application to adopt prior to setting up an appointment. There is a huge need to help these animals since our county does not have a full-time animal control officer. Having an available foster home is always a dilemma, but we do all that we can to help as many animals as possible. Our success is dependent on your support. Thanks so much for caring!
Adopting a friend
In order to adopt one of our pets, please download our Application to Adopt that is posted at the top of this webpage. After receiving your application, we will review your application and check your personal and veterinary references. If you are approved, the adoption process can be completed by signing an Adoption Contract and a Sterilization Agreement (when applicable). Adoption fees for cats/kittens start at $70, and for dogs/ puppies at $65. If the pet is unaltered at the time of adoption, the adopting family will be required to pay a sterilization deposit of $25 that will only be refunded when proof is provided that the pet has been altered. The adoption fee for a dog that has been fully vetted is $130. Our adult dogs are examined by a veterinarian, vaccinated for DHPP, Rabies, and Bordetella (kennel cough), tested for heartworm disease, started on heartworm and flea prevention, and treated for any existing health problems. Our goal is to adopt out very healthy, well-trained, and socialized pets.
Most of the dogs in foster care are exposed to other dogs and assessed by their foster parents for any behavioral problems. Some foster homes also have the opportunity to assess the dog around children or cats. If you have any questions about our pets for adoption, please do not hesitate to ask. We will do our best to answer your questions. We want our pets to find a home and a family that is well-suited to their needs and personalities so that the adoption will be a great experience for everyone involved. We are able to give potential adopters some background on our rescues so that they can make an informed decision about whether or not a particular pet would be a good fit for them. Plus, our pets live in a home environment where they are assessed in great detail by their foster parents - a definite plus! Some of our dogs are even housetrained prior to adoption, and this helps to make the transition into a new home less stressful for the adopting family. We promote crate-training as our preferred method of housetraining. If you are not familiar with crate-training, please ask us for more details. We are sure that you will become a fan of this housetraining tool, too!
Please look at some of our other rescues patiently waiting for adoption:
What a beautiful girl! Chessa is a show-stopper and can't wait to go to her permanent home. She is young and shows potential to be a very smart girl. She gets along well with other dogs. She currently weighs approximately 60 lbs. Who could resist such a cute face? Adopt Chessa today!
Pinto is such a cutie!! She is very energetic and would love nothing more than to come home with you! She lives for chasing a tennis ball! She is approximately 50 lbs, and gets along well with other dogs. Adopt Pinto today
Come Visit Us!
Although we do not have a facility, we will be happy to arrange a mutually convenient time for you to meet one of our lovable pets. Please don't hesitate to email if you have specific questions or would like to set up an appointment. We try to be as flexible as possible and don't mind meeting you at night or on the weekends.
All of our pets receive excellent veterinary care at Gateway Animal Hospital in Statesboro, Georgia. A big thank you to the Doctors and staff at this caring veterinary hospital! You have helped to make our rescue efforts a reality!
If you have any questions about our organization, please feel free to contact us at:
hsecadoptions@yahoo.com

Visit our Facebook group:
Humane Society of Evans County, Ga inc.

For technical questions about the website, please contact:
sharochka@gmail.com

Even though we are a network of unpaid volunteers, we always strive to respond to you in a timely manner.