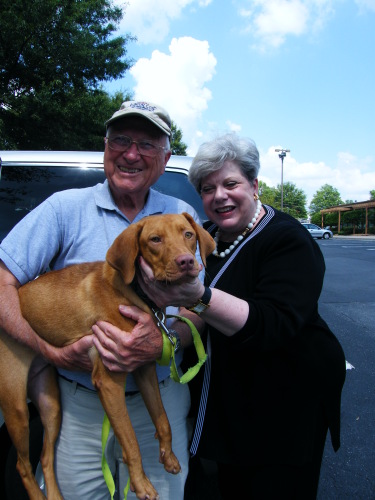 Chillie!

Chillie is a very lucky girl. Many Rescue Angels worked on her behalf. The best part is her new mom and dad Ginny and Joe, and their other girl Audrey Jane.They adore her, and she will have a wonderful life now. See a close-up of Chillie on our Happy Tails list!
News
WE NEED FOSTER HOMES!!

We are currently looking for donations to help our rescue efforts. Items we need are among the following: large crates, leashes, blankets for beds, Frontline Plus. Please contact us if you have a donation you think we could use. Thank you for your support!
Who We Are
Hi, Vizsla & Weimaraner admirers! We are Atlanta Vizsla & Weimaraner Rescue, located in the Atlanta, GA area. We learn about these Versatile Gun Dogs in need from a variety of sources. We find homes for those whose previous homes have disappeared. Our dogs live in one of our foster homes, usually for a period of weeks, while we attempt to learn who they really are, what they like, and what their special needs may be. This crucial time with our dogs helps us in finding their forever homes.
About Adopting a Vizsla or Weimaraner in Rescue
Adopting a Friend.....

We use a common adoption process in our rescue program. You will find this to be the case with any reputable rescue organization. Potential homes are screened carefully to make sure they can provide an appropriate environment.

We are glad to have phone conversations and communicate by email. We have a pre-adoption application, a vet reference check on current and prior animals, a home visit and an in-person interview with all family members and other pets, and binding contract. All this would need to be done before placement.

All of our rescue dogs must be spayed or neutered. We do not place intact dogs. They must also be micro-chipped, with registration to be updated at time of adoption. Our dogs will be up to date with veterinary needs prior to adoption.

We usually have Vizslas or Weims available in our program. Patience is in order for most of our applicants. We do work diligently to make the right match between rescue dog and family. Some of our dogs are owner-surrenders. We encourage our owners who surrender to hold onto their dog if possible, while we find the right home for their dog. That is less traumatic for the dog. The dogs that come from shelters are usually fostered for a period of time, for assessment, and for necessary vetting to be done. The number of dogs we have varies. It is unpredictable. If a specific age or gender is preferred, your wait might be longer.
About "Rescues with Baggage"!
Generally our rescues do not have problems. More often the problems are with the owner, or the owner's circumstances. We do sometimes have rescues that come to us with baggage. Few issues are difficult, rarely are they insurmountable. Patience and knowledge is always in order.
It is strongly recommended that if you do not already know the Vizsla breed or the Weimaraner breed that you take the time to become educated. We can help you with that. It is also extremely important that you know the general needs and temperament of hunting breeds. The Vizsla or Weimaraner is NOT the breed for everyone!
We adopt to homes within the state of Georgia and nearby areas only. Most dogs need to be placed in homes in the Atlanta area. The rescue group is self-supporting and ALL monies are used for Vizsla and Weimaraner Rescue efforts.
Rescue is a time-consuming, costly venture. Our rescue program is run by all volunteers. We do have an adoption fee, stated on the application. We depend on adoption fees, donations, and fundraisers to keep our rescue program going.
The dogs in our rescue program will have a complete file at time of adoption, with medical records, microchip records, necessary contact information and a contract.. Always remember, getting a dog is a 10-15 year commitment!
Note about "invisible" or electronic fences:
This information is borrowed from the Weimaraner Club of America FAQ's.

Q. I want to put up the so-called invisible fence. Is this a good way to keep a Weimaraner?

A. No. The Weimaraner becomes frustrated with this type of confinement and continually tests the perimeter looking for a way through it. It will do this to the exclusion of all other activity. In my opinion, it makes them neurotic and unhappy. Some may even tolerate the shock and go through the fence anyway. Another consideration: your dog will have the collar on, but any roaming dog or animal can approach your dog without the restraint of any fence. This can cause serious problems for your pet. Do not waste your money.

NOTE: Date 12/2000-I recently received a letter from a broken hearted family who had placed their trust in the invisible fence system instead of building a fence for their Weim. Their Weimaraner ignored the 'pain' of the collar and ran through the invisible fence. This had happened several times before, but this one last time the dog ran in front of an oncoming car and was killed. Please have some other type of confinement for your Weims. This event speaks for itself!
Call or Email Us!
We sincerely hope that if you decide a Vizsla or Weimaraner is the dog for you that you will consider adopting a rescue dog. They are wonderful dogs who have run into circumstances beyond their control and now find themselves in need of new homes and people who are willing to make a commitment to them for the rest of their lives. Please email us if you are interested in receiving an application
---
Atlanta Vizsla & Weimaraner Rescue

Roswell, GA 30075
Phone: Buffy at 770-823-3971


Click here to send VIZSLA e-mail

Click here to send WEIMARANER e-mail

Click here for a list of pets in this rescue program.



---

[Home] [Information] [Shelters] [Search]

20562287