Contact: Jennifer Schmid
Gainesville GA -
Where Are We? 9 miles east of Gainesville Georgia
I have a "real paying job" Mon-Fri, so leave a message and I'll call you back after 6pm.
Cell: 706-244-1498.
Email pantherintheforest@yahoo.com


We are adopting out our remaining adoptable pets, and still have about 12 dogs. Several are very adoptable, but they don't look like a specific breed, so they get passed over. We also have shy pets that are scared of everyone except me, like Lizzy and Glory - and these leftover animals need your donations for the occasional dental, medications, annual rabies shots, and special food for the ones who have trouble eating. Please send us a little donation to help our "retirees"! There are several Paypal buttons on this page, and our "snail mail" address is above.

http://www.petfinder.com/petdetail/14180277
Our "Lifers at the Orphanage" - Unless You Adopt Them! They Would Love their own Person!
Click on their pictures read their stories. Some are shy with people, but would love to be your outdoor dog, playing happily with your other dog. Some are older, but they still deserve a sunset home with people who understand they had dfficult beginnings, and will give you love as best they can.

Name and number of years at my home: Adopted 12/22/09! Shiloh, sweet yard dog - age 7, since 2004 Khaki, playful, active sweetie pie - age 8, since 2005. Lizzy, shy youngster - age 2, since 2008. Fancy, sweet mama, age 2, since 2008; Cricket, 15 years old, rescued from a shelter at age 13, here since 2005.
Adoption Fees
If you are on a fixed income, or want to adopt an elderly pet, the following fees would be less. Fee includes:
Spay or neuter
Shots (every 3 weeks, until adopted, or 3 sets given)
Heartworm or leukemia/FIV test (depends on age)
Rabies vaccination after 12 weeks of age

$75 for puppies under 12 weeks, $125 for adult dogs, who get a heartworm test & rabies, too.
$50 for pets over age 8 - Give a home to a middle-aged or senior pet - you're probably no spring chicken, after all, either!
"market price" ($150-$225) for purebreds, tinies, or giant breeds like Great Danes or anything else that eats a lot,
or costs more at the vet -
$$? for additional vetwork - at our cost - such as dentals, hernia repair or heartworm treatment.
Our pets are fully vetted and ready for a new family. If you are interested in a specific pet, email me with its name, and I'll send you our application. The email is: pantherintheforest@yahoo.com. Adoption fees are refundable minus $25 within a month of adoption if it's not working out. I will always take an animal back, no matter how long you've had it.

If you'd like to see a pet, I can meet you in the evenings after my "real" job that pays for the animals' upkeep, or Friday through Sunday - I'll drive a "fur piece" to find a great home for one of my "kids"!
Banks County Georgia - One of 66% of GA Counties with No Animal Control
Banks County has no official animal control - no way to turn in a stray or an unwanted pet. The county commissioners have for years vetoed efforts to help the county dogs and cats. These are two of the strays I have rescued in Banks County.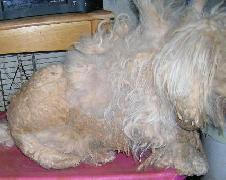 Scroll down to read the stories about these animals.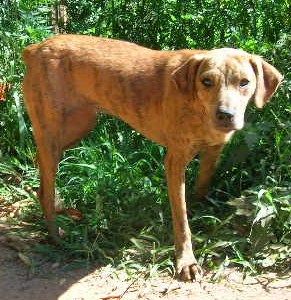 Glory the first day - and 8 months later, one of my shy girls, but nicely fattened up
I found her Thanksgiving week near my home in Banks County. She was nosing around for food in the roadside trash. I have never seen an emaciated animal that was that bad, and still alive.
I tried to approach her, but she ran off toward the woods, toward a beatup trailer I had been to for a yard sale.
I asked the family if the puppy was theirs. They said yes, that one of their female "yard dogs" had another litter, and it was the only one left - the others had been killed by a dog up the road, or died of parvo. "The kids were mean to it, so it won't come near us anymore." It couldn't get enough food because the yard dogs didn't let her eat - they were too hungry themselves. Their diet was white bread with a little dog food when these folks had extra money.
I went home and got my bigger trap, and asked the family to catch the puppy. She went in the trap the next morning. I brought her home, and very carefully noosed her and took her out of the trap. She didn't bite me, but her look of terror made me extra cautious.
I fed her a little and after an hour or so, picked her up and put her on my lap. For the next 3 days, she buried her nose in the corner of my armchair, hoping that I would go away, I guess, if she couldn't see me. I named her Glory. She was about 4 months old, and about 5 pounds.
The people who live in the trailer are extremely poor, and extremely depressed, too, I think - trash everywhere, lifeless responses to my questions and comments. The people are sad, and the dogs are sad. Since then I've spay/aborted Glory's mother (see Mama Girl in my pet list) she was about to have another litter. She lives with me, too, while I treat her for heartworm.
So Happy Thanksgiving, Glory, you won't suffer anymore. Maybe someone will see you online, and want to help you have a good life. She is learning to play, and licks my chin now, instead of hidng her head so she can't see me. The last picture was taken 5/31/09 - she is a beautiful brindle girl, part beagle and part who knows, about 35 pounds, still shy, but happy with her 4-legged friends, who she still trusts more than me.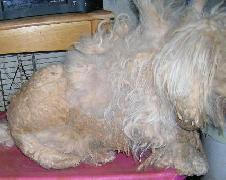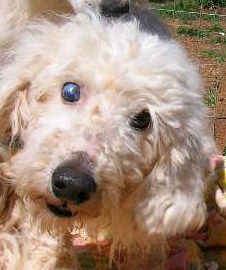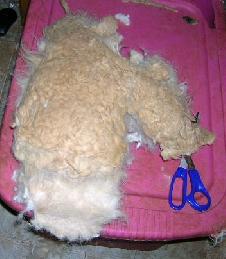 Donald
I found him near a farm in Maysville in March '09. It took me 4 hours to shave 5 years of matted hair off his body (the 3rd picture is about 2/3 of the matt - compare it to the 8-inch scissors next to it). His right eye is permanently damaged, and his left ear was so horribly infected I got nauseous when I saw it. If Banks County had a shelter, Donald could have been turned in, and his suffering ended years ago. Banks County government is mostly farmers whose only concern is making money on livestock. Domestic pets have no monetary value, unlike the chickens, hogs and cows the farmers can sell or eat.
Donald has a new home, he goes to school every day with his new owner, and works with special needs children. Everyone deserves a life, and has a purpose in God's world.
To see a slideshow of Donald, Before and After, cut and paste this link into a new browser window, and click on the first picture that says slideshow:
http://s291.photobucket.com/albums/ll285/jaguarinthedark/Donald%20The%20MegaMatted%20Mutt/
We Depend on you for Donations - We get no federal, state or county money
Many humane societies and rescue groups like us are private agencies. We get no county, state or federal funding at all. All our expenses come out of our adoption fees, and from people like you. Our Paypal button below makes it easy to send us $5 - $5.75 buys a bag of dogfood, for instance. Our address is above, if you prefer to send donations by mail. Thanks!
Low-Cost Spay/Neuter Information Click here for spay/neuter discounts and locations of participating veterinarians. If you live in the NE GA area, email pantherintheforest@yahoo.com for coupons at Lavonia, Toccoa, Commerce and Jefferson Vets. Go to www.athenshumanesociety.com for info on the new Athens spay/neuter clinic. Leftover Pets has a mobile vet clinic, too, that travels around NE GA "fixing" the problem - click here for the Leftover Pets "Pet Mechanic" surgery schedules.
Low-Cost Vaccinations
Click here for vaccination discounts and locations in metro Atlanta
Low-Cost Parvo Treatment
Click here for information on at-home parvo treatment options for dogs that have come down with parvovirus. Discuss this information with your veterinarian.
Note: I have successfully pulled 3 puppies from separate litters through parvo this year (2007) using the IV catheter fluids at-home method, with supplemental antibiotics and anti-vomiting meds. In the past, I probably lost 85% of the puppies I tried to treat with subq fluids and antibiotics alone (under the skin). I've never had the $1000+ to hospitalize a parvo puppy, but the extra cost of the catheter and other supplies is very low -- about $25 to $100 per puppy. I am not a veterinarian, but I have rescued over 5000 pets, and have had a lot of experience nursing animals through various illnesses. Any information I have is based on what veterinarians have told me or prescribed over the years.
Can't Adopt? Sponsor a pet!
Our geriatric cats do much better on senior cat food, but we rarely get any donated, and our funds don't permit the better quality foods very often. Even $8 will buy 8 pounds of Iams or Science Diet Senior catfood, and they really thrive on it, compared to the cheaper brands. The younger cats aren't so sensitive to food, but the old guys have more delicate systems. Click the Paypal button below to donate, or send a check "snail mail" to 5786 Highway 52, Gillsville, GA 30543 - a tax deductible contribution and truly appreciated.
Feeding a Stray?
It Won't Go Away
So Fix It Today
Please Don't Delay!
When the litter has grown, you'll get on the phone,
With no homes for them all,
The pound you will call
These animals are dyin'
Because you are lyin',
Saying "It's Not Really Mine!"
If you don't fix 'em
You're part of the problem!
Get a coupon today
For a neuter or spay
And get honest! OK?

Get a discount spay/neuter coupon at www.petorphans.com. Check the list, and find a low-cost vet near you! If you don't want to get it fixed, please be responsible and turn it in to a humane society or shelter, where at least it will be safe, and won't be allowed to breed if adopted!
We Clean 'Em Up, You Adopt 'Em! Some of Our Success Stories!
These before and after pictures show Carolina (black cocker - intake 7/15/06), Harold (shitzu, adopted), and Prince (one of 12 maltese mixes we took in, all 12 adopted). This kind of neglect takes years, and it takes hours to undo just the grooming part of it - so please click our Donation Button below - $5 sharpens our blades - there's always another Matted Mystery waiting for us! $1 feeds one of our geriatric cats for a week - we buy them senior food so their kidneys stay healthy.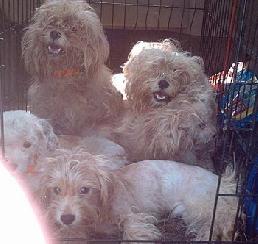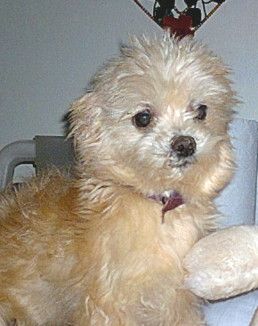 | | |
| --- | --- |
| | Donate an Orphanage-Tested Kuranda Pet BedI bought one bed a few months ago, and none of my foster dogs have even tried to eat it! Even the lab puppy! So we've signed up with Kuranda Dog Beds because we have proved to our satisfaction that they are durable, chew proof and easy to clean. And the dogs - and cats - love them. They're specially good for our senior citizens, who really appreciate something soft to lie on. If you would like to donate a bed to us, click here. Thanks! |
"Fix" the Problem - Even the Stray You're Feeding!
Get a Discount Spay/Neuter Coupon for Yourself or Your Neighbors
I know how sad it is to walk down the row at animal control, or even at our adoptions, and see all the animals waiting for a home. So "fix" the problem by reminding all your friends and neighbors to spay and neuter their pets and strays! Most of the kittens and many of the puppies we are asked to take come from "the stray that wandered up." If you don't want kittens or puppies , don't feed a stray without fixing it! Take it to a shelter before you get too attached. It will be safe there, and if it gets adopted, it is required to be sterlized by Georgia law.

We offer low-cost spay/neuter coupons to the public for Commerce, Athens, Toccoa and Jefferson. Email us at pantherintheforest@yahoo.com, or call 706-244-1498, and leave your name, address, phone, and sex and type of animal -- cat or dog. If you're not in NE GA, a great source of information on discounts for spaying and neutering is the http://www.petorphans.com website, the low-cost spay/neuter link has contacts all over the US.


Click here to see our Adoptable Pets

Sponsor a Senior Pet

These are disabled or just elderly pets we've taken in from owners and shelters.
For pennies a day, you can sponsor one of our long-term residents with our PayPal button--
or adopt one! They're never too old for love! In October, we adopted out Baby, a 12-year-old chihuahua, in November we adopted out a 16-year-old Yorkie, and in January we adopted out a 14-year-old Pekingese. There's always room for an old one.

What About Senior Dogs and Death?

Many people say "But it's too old, it won't last long, and I'll be heartbroken!" Perhaps an elderly animal, won't live as long as a puppy, but our culture doesn't allow us to see death as part of the flow of life -- and even if your senior pet only lasts another year or two, it will add a lot of joy, as much as its passing will bring sadness. I feel a big gap when an animal dies, but it comforts me to feel its spirit with me -- when I'm sad, I think about what a joy that animal was, and how lucky I am to have experienced that kind of love from another creature. It helps me in my relationships with people, too, because I know what it feels like to love and be loved. For children, this might be a way for them to experience death as a spiritual thing, not a scary event, even though it's painful for those of us left behind. The new pet would be like an aging relative, who may not be here for much longer, but who gives us much quality, if not quantity. To love at all is a gift, and the great mystery of death cannot take that away. Rusty, blind 6-year-old chihuahua:

Prince, spry old geezer, at least 10, 7 pound maltese mix -- ADOPTED 11/05!:

You'll be jealous, these great pets already found a home!
A good reason to search www.Petfinder.com every day!
Looking for a Great Pet or Small Dog? Try Rural NE GA Shelters
You can often find small dogs at one of the more rural animal shelters, such as Northeast Georgia Animal Shelter in Lavonia, Georgia, off I-85 at exit 173, 706-356-5363. Open Tuesday-Saturday, 11 to 4.
Madison/Oglethorpe Shelter, Danielsville, GA 706-795-2868, http://www.moaspets.org.
Commerce Vet is also the pound for Commerce and Jefferson, and always has plenty of animals for adoption. The fee is $90 for dogs, $70 for cats, including sterilization, shots, and a microchip.
Great Adoption Websites
Southeast: Click on http://www.petorphans.com for the Atlanta Rescue list of purebreds and mixes. Also try http://www.atlantapets.org for metro and suburban Atlanta pets or adoption.
Athens has lots of rescue groups. Go to http://www.athenshumanesociety.com, which has links to a bunch of other local adoption groups, and information for the Athens area.
Athens area:The Madison/Oglethorpe Animal Shelter has lots of great pets, including small dogs, plus a low-cost spay/neuter clinic onsite!. They are http://www.moaspets.com located in Danielsville, about 20 minutes north of Athens.

Why You Shouldn't Give Your Pet or Stray Away Free!
Go to http://www.petorphans.com for a great list of vets who do pediatric (under 4 months) spaying and neutering, in case you have a litter you want to find homes for. It's much better to get them fixed, and adopt them out -- for a price! -- that way, the animal has a value. Never give an animal away free!
Jennifer's Philosophy About the Bad Things in Life
99% of humanity's problems are due to the human ego -- Mother Nature throws in a little excitement now and then just to watch the media frenzy, and to show us who the boss really is.
My Dog Was Shot - Poisoned - Killed. What Can I Do?
Rural police departments aren't often sympathetic to the problem of shot dogs. Basically, if you don't keep your dogs in a fence, you have to accept the risk that they will run off, get shot, run over or get stolen (which happens even if they are fenced, particularly if they are purebreds). What can you do? If your neighbor admits to shooting your dog, get a copy of your vet records of your costs for neutering, shots, etc., and request that the neighbor reimburse you for your expenses -- the "value" of the animal. The sad truth is, cows and chickens are more valuable than dogs and cats -- because we can eat them or wear them. Mixed breed cats and dogs have no monetary value to our society -- even purebreds, once they are sold to a pet owner, are no longer valuable. The only cost you can prove is vet costs, and you'll probably get laughed at, but it's worth a try. The cash won't fix the heartbreak or your guilt for leaving the animal loose in the first place, but it may teach the shooter than domestic pets do have a reimbursable value.
---
Humane Society of North Georgia

Gainesville, Georgia
Email for Jennifer, Commerce foster home, professional scooper and answerer of varmint-related questions: Email: pantherintheforest@yahoo.com
Cell if it's urgent: 706-244-1498 (Verizon - free to other verizon customers); 678-617-5947 (Cingular - free to other cingular customers)

---

[Home] [Information] [Shelters] [Search]