Chinese Crested, Hairless & Small Dog Rescue of FL
---
In Loving Memory...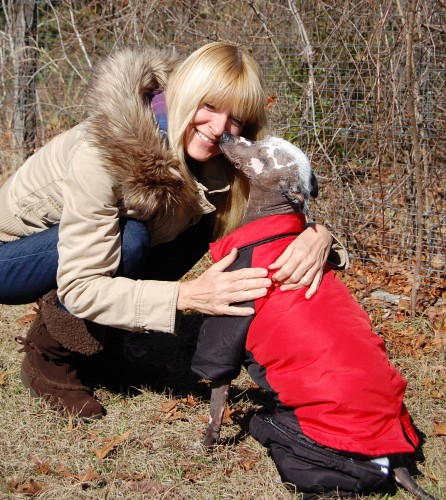 ---
FAITH: Beautiful Faith, our Peruvian Inca Orchid, found her loving after 3 years in rescue. She enjoyed going for runs with her new mom, and was truly a princess! Sadly, she passed recently from cancer. Our heart goes out to her mom on her loss. Faith was one of those very fortunate dogs, rescued from a shelter, who found that perfect home where she could spend a happy life! It is our hope that many dogs will find the same through adoption on Petfinder.
---
WE NEED FOSTER HOMES! Would you like to help a pet waiting for their forever home? We are looking for caring, compasionate volunteers to care for foster dogs. Vetting and feeding expenses are paid by the rescue. You provide the love, nurturing and direction needed to get our foster dogs ready for their new life! If you would like to be considered as a foster home, please contact us at micandlego@gmail.com
---
News
Are you a senior looking to adopt a companion? Contact us about our "Seniors for Seniors" program. Qualified applicants who want to adopt one of our senior or special needs pets will have the adoption fee waived. Email us or go to our webisite at http://crestedrescuefl.com
---
Special Needs Listing
Beautiful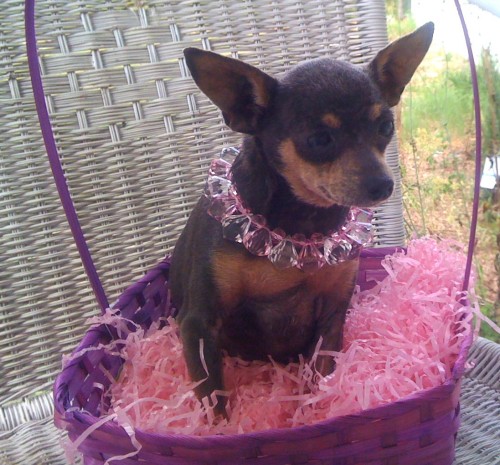 This sweet 6 lb girl found her loving forever home! Who could pass up a dog in an Easter Basket? AND, she went home over Easter! Yes, she was in a basket when we took her home! We hope she has many happy years with her new family.

---

Can't Adopt But Want To Help? SPONSOR A DOG!
For a $25.00 donation in the name of one of our dogs, you will receive quarterly updates and photos of that dog for one year. Should the dog be adopted, the remainder of your updates will be sent on another dog of your choice.
---
Please email us at micandlego@gmail.com if you would like to make a donation
---
COMING SOON
Watch our listings for the addition of the following dogs which are coming from the Tennessee Puppy Mill bust in Warren County Tennessee. Pilots and Paws flew the dogs from TN to Florida, and they arrived Saturday, April 9th. These dogs were rescued from terrible conditions and will be looking for wonderful homes. We will post photos and bios as soon as possible. If you would like information on one of them, email us at micandlego@gmail.com
Female black Chihuahua

Male red Pekingese mix

Blonde male Pomeranian - approximately 12 lbs, 3.5 years old
---
Who We Are
A rescue for all hairless dog breeds and small dogs under 25 lbs. Many of our pets are saved from shelters when their time is up. We take older dogs, dogs with medical issues, and dogs who need to work on socialization or need behavior training. Our goal is to place these deserving pets in loving homes.
---
"Special Needs make Special Pets"
---
---
Are you considering taking your pet to a shelter or surrendering your pet to rescue? Please email us at micandlego@gmail.com
---
We are dedicated to helping dog owners by providing education regarding care of their pets, and suggestions for training and behavior modification

Like a child, a dog needs YOUR TIME. They need rules, guidance, protection and love.

They will reward you with their loyalty and life long devotion

As they age, they require extra care, they may have additional medical needs, and you will need to spend more time caring for them in their golden years.

You will not regret the time that you spend.

You will only regret not spending the time
Adopting a friend
Adoption fees vary based on age and breed of the dog. Potential adopters must fill out an adoption application for the pet they are interested in. We screen all applicants. A home visit is required prior to adoption and an adoption contract must be signed at the time of adoption. The safety of our pets is our primary concern.
---
---
---

Please email for more information on any of our available dogs. We are happy to provide more information and photos on any of our little ones waiting for their forever homes.
---
Chinese Crested, Hairless & Small Dog Rescue of FL
Hudson, FL
Email: micandlego@gmail.com
Click here for a list of pets at this shelter

---

[Home] [Information] [Shelters] [Search]