Sunshine All Breed Rescue Inc.
Sadly, we are not able to take in any new dogs at this time.
---
Featured Pet
Jessie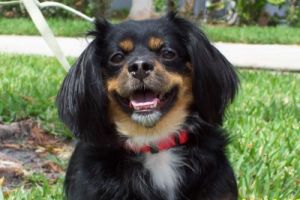 Why we do what we do...
Eddie was a tiny, senior Chihuahua found at a high kill shelter in very poor condition. We knew that if we did not take him in, he would have very little chance to survive. Eddie was so weak, we feared he may not make it from the shelter to the vets in time to save him.
He stayed at the vets for several days and was found to have a severe heart defect complicated by an infection that raged through his body. It was also obvious from the scars that covered his tiny body that life had not been kind to him. He suffered from years of neglect and poor care.
We tried to help Eddie recover so that he could spend whatever time he had left in comfort. We took him home and gave him medication, loved him and prayed for his recovery. However, Eddie was not strong enough to fight the disease that caused his health to continually decline. When it became obvious that Eddie's condition was declining very rapidly we made a decision to do the kindest thing possible and help him finally find freedom from pain and sickness.
He didn't have long with us but during his short stay we tried to make up for the life of misery he must have had. Even in his final moments before crossing over Rainbow Bridge, Eddie was stroked and given heartfelt words assuring him that he was a good boy and how very much we loved him. In Honor of Eddie, we continue to offer comfort and safety to other abandoned, needy dogs.
We hope you will join us in the effort to help our canine friends by contributing to our general Rescue Fund, our constantly growing Veterinary bill or our Forever Fosters Fund. We are a totally volunteer organization that survives on the kind donations given by caring folks who want to help dogs in need. Every little bit helps and we thank you in advance for your generosity. Warmly, Sunshine All Breed Rescue
All donations accepted with great appreciation.
Sunshine All Breed Rescue

Ft. Lauderdale, Florida
Thank You!
Who We Are
Sunshine All Breed is a vibrant dog rescue group who believes that -- every great dog deserves a great home! We will work to help a homeless dog of any breed gain his second chance at a forever home.
Homeless dogs come to us from shelters, as strays or by owner-surrender. Once they are in our care, our all-volunteer group works hard to ensure the dogs' physical and emotional needs are met through home-based fostering. During foster care, we evaluate the temperament and activity level of each dog. All the while, we seek that perfect match in a permanent home -- one that best meets the dog's particular needs and most appreciates his/her individual personality.
Before they leave us, all dogs adopted from Sunshine All Breed Rescue are micro-chipped for the safety of permanent identification. They are on heartworm and flea/tick preventative. They're up-to-date on vaccinations. And, of course, they are spayed or neutered to prevent any future homeless ones.
We at Sunshine All Breed Rescue have seen that training your adopted dog is a great way for you to deepen the human/animal bond and let your new friend know exactly what you expect of him. For this reason, all of our adoptive parents are strongly encouraged to enroll their new furkids in a fun, positive obedience class as soon as they can.
Our Wish List
Baby blankets – used or new
Towels – used or new
Grooming supplies – any type of tools or toiletries
Dog beds or crate pads – used or new
Plastic or wire dogcrates and ex-pens – used or new
Dog supplies – any item, especially collars, harnesses and leashes
Dog toys and chewies – fuzzy or rubbery (Boodas or Nylabones or Kongs)
Rawhide chewbones – American-made only, please (look for 'Made in America' on the tag and not just the distributor's city/state)
Prescription diet dogfood – either dry or canned
Frontline (or Frontline Plus) flea/tick preventative (any dosage) – avail from grooming or pet supply shops
WeeWee pads – avail at any pet supply
Nature's Miracle odor remover – avail at any pet supply
Gift-cards to local pet supply shops
Gift-cards to anywhere else in town
Your kind donation in ANY amount to our General Rescue Fund (See FAQ #4)
Your kind donation in ANY amount toward our Veterinary bill (See FAQ #4)
Your kind donation in ANY amount to our Forever Fosters Fund (See FAQ #7)
And lastly - dare we ask? - we could sure use a digital camera…
THANKS SO MUCH for helping us help homeless dogs!
Sunshine All Breed Rescue Inc.

Ft. Lauderdale, FL
Phone: 954 / 793-3907
Email: sunshineabr@yahoo.com

Click here to view our wonderful Dogs
Web & Graphic Design donated by: Shelter Graphics
Copyright © 2003 Shelter Graphics
---
[Petfinder Home] [Petfinder Information] [Petfinder Shelters] [Petfinder Search]