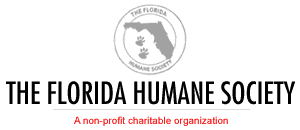 ---
Who We Are
The Florida Humane Society is a nonprofit charitable tax-deductible 501 (c) 3 organization. We are a true No-Kill organization that has been in operation since 1993. Our mission is to help our communities respond humanely to the needs of the animals and to stop thousands of needless deaths each year by an active and aggressive spay/neuter program.
Adopting a Friend
In order to adopt a furry friend, a pre-qualification application must be completed and approved by our Counselor staff. The adoption fee for dogs includes Heart Guard, Flea Control, Micro Chip, Current Vaccines and Dewormed. The adoption fee for cats includes FIV/FELV testing, deworming, flea treatment and first set of vaccinations. All of our pets are Spayed/ Neutered. Included with each adoption fee is a free visit to our partner veternarians (ask to see our approved list of providers).
Come Visit Us!
We currently provide cat and kitten adoptions from three convenient locations:

We maintain off-shelter adoption centers inside the Boca Raton PetSmart (SW corner of Rt. 441 & Glades Road) and the Coral Springs PetSmart (4151 Turtle Creek Dr.).

- Boca PetSmart adoption events are held weekends (Sat & Sun) 10:00 am - 4:00 pm. Special appointments are available by contacting (754) 367-1971.

- Coral Springs PetSmart adoption event are held weekends (Sat & Sun) 10:00 am - 3:00 pm.

Our new shelter is now open! Cats and dogs are available for adoption at our shelter, located at 3870 Powerline Road, Pompano Beach, FL 33073 (corner of Powerline Rd. and Sample Rd.). Adoption hours are Thursday - Sunday, 12:00 pm to 4:00 pm or by contacting (954) 974-6152.
"Like Us" on Facebook!
Learn more about our adoptable animals at: https://www.facebook.com/FloridaHumaneSociety/dom
Shelter/Volunteer Office/Mailing Address
3870 North Powerline Rd.
Pompano Beach, FL 33073
Dogs (754) 367-0355 Cats (954) 974-6152
Fax (954) 974-6162
Email: floridahumane@aol.com
Website:http://floridahumanesociety.org/dom








---
Privacy Notice
This notice provides our policy regarding the nature, purpose, use and sharing of any information collected via this Web site. The information you provide on this site will be used only for its intended purpose. We do not sell or repurpose your information with any third-party providers. We will protect your information consistent with the principles of the Privacy Act, and as applicable, the Freedom of Information Act.