---
Animal Friends of Connecticut
Who We Are
We are a local no-kill shelter dedicated to rescuing both strays and mistreated dogs and cats. This is a strictly volunteer organization and we are wholly dependent on your donations

---
PLEASE HELP! THE NEED FOR FUNDS NEVER ENDS. The demand to help the homeless and injured pets just keep coming. They need our help and we need yours. Please consider donating. We would be happy to send a receipt for tax deduction donation. If you wish to donate thru Paypal please go to this link Your help is greatly appreciated.
---
Shelter Volunteers Needed


---

We are looking for new volunteers to help out at our New Britain shelter. If you are available for a few hours during the morning and want to help take care of the many cats in our charge please call 860-827-0381 to arrange for an interview. You can volunteer for just one day a week or several days depending on your schedule. Just let us know what day(s) you would like to volunteer You will find it very rewarding and the animals need you now.
FOSTER HOMES ARE ALSO NEEDED WHEN WE HAVE NEW ARRIVALS THAT REQUIRE SPECIAL CARE OR KITTENS THAT MAY NEED MULTIPLY DAILY FEEDINGS.


If interested please call 860-827-0381.



---

OUR PET LIST

WE HAVE KITTENS THAT NEED HOMES!
---

Our Featured Pet
Betsy

Betsy is a sweet and calm girl. She could be a lap cat to the right person. Betsy isn't one to chase or run after toys. She is a very mellow girl. gets along well with other mellow cats. She has been with us over two years waiting for a home.



---

Dottie
Dottie is a very active and frisky girl She loves to play and chase toys. She is as playful as a kitten and does enjoy when people play with her. She is too frisky to be a lap cat, but is friendly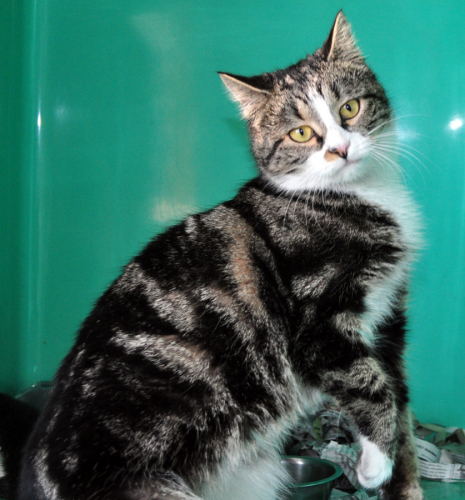 ---
We have many adult cats who are also waiting for homes. Some will need an experienced adopter.
Remember "...Saving just one pet won't change the world ...but, surely, the world will change for that one pet..."



Can't Adopt but would love to help the animals!!! Consider our Sponsor-A-Pet program. Go to Sponsor-A-Pet for more information.

---
If you would like to help mail donations to ANIMAL FRIENDS OF CONNECTICUT POB 370306, West Hartford, Ct. 06137-0306. Or go to Animal friends of Connecticut to donate on line.
Adopting a friend
Come Visit Us!
For any information about adoption you must call our number at 860-827-0381. Any time from 7:00 a.m. to 5 p.m. We do not take calls during the night time hours. Adoptions by appointment only.



E-mail is no longer available