Updated: September 14, 2011

****** Special Notices ******
~VOLUNTEERS NEEDED~
---
If you are interested in volunteering your time to a great animal cause, welcome to Animals In Distress. Our cats love company. They need daily brushing, playtime and affection.
We always need help keeping the place tidy (cats are neat by nature yet do need help to stay that way).

If you have cat allergies and still want to help out, you can help help us maintain an adoption book or distribute flyers.

You must be at least 21 years of age, love animals and can offer at least 2, 4, or more hours monthly.

Please call 203-762-2006 and leave a a brief message, your name, phone number and the best times to reach you.
---
Featured Pet of the Month
~~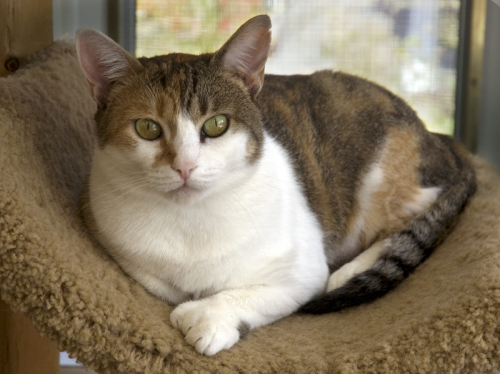 Please visit our official website at:
animals-in-distress.com.
Who We Are
Animals in Distress is a non-profit cat shelter run entirely by volunteers. Animals in Distress rescues homeless cats and kittens and provides them with a safe haven and lots of love and attention until they find new homes.
We are always looking for foster homes to care for some of our kittens and cats. We provide the food, litter and other necessary supplies, you provide a home with love. If you are interested in becoming a foster parent, or a volunteer for Animals in Distress, please call Katherine at 203-762-2006
Please come visit and consider giving a home to one or more of our sweet friends. We're getting a bit crowded and need to make room for more animals in need of our help.
Long or short-haired, from Calicos to Tigers. They're all looking for a good home. How about yours?

Adopting a friend
If you would like to get to know our very special cats and kittens, please meet us at our shelter.
Adoption donations:
Adult cats (6 months and older): $125.00
Kittens: $150.00 (includes the cost of spay/neuter.)
Come Visit Us!
Adoption and visiting hours are Saturdays 1pm - 4pm. Adoption appointments can be arranged, please call 203-762-2006 to schedule.
Save time fill in our online application before you come to visit. animals-in-distress.com/adoptionform
You can also visit our official website at animals-in-distress.com
---
Animals in Distress

238 Danbury Road
(Behind Wilton Town Hall and across from Police Station)
Wilton CT 06897
Phone: 203-762-2006
Email: Adoptions
---

[Home] [Information] [Shelters] [Search]