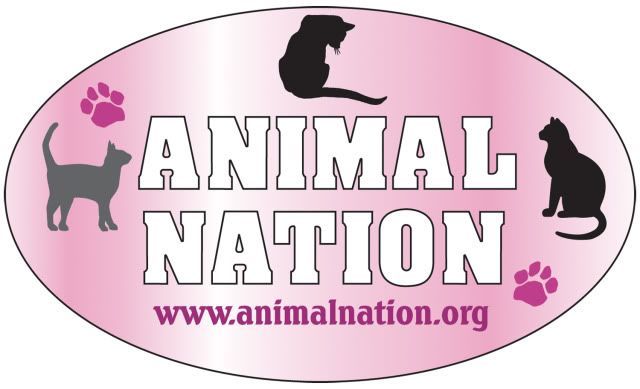 Animal Nation

---
Our Featured Cat is... Kittens!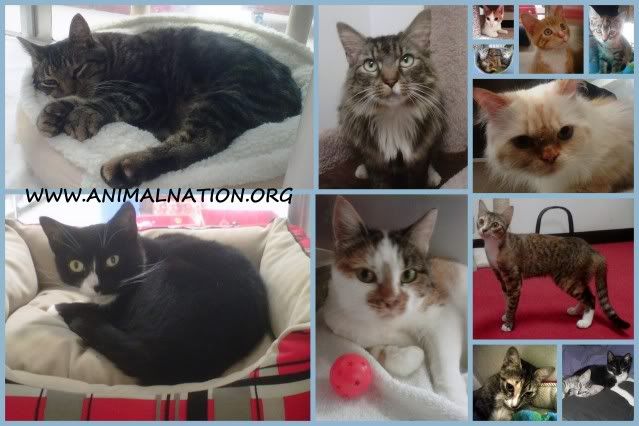 All cats and kittens are spayed/neutered, up to date on vaccinations, microchipped, dewormed and FIV/FeLV negative prior to adoption unless otherwise noted. Our kittens stay in foster homes til they are at least 8 weeks old and ready for their new families.





Email: PurrSouls@gmail.com for an application to adopt one of our adorable kitties!
News
We need foster homes for cats and kittens at all times, and occasionally for dogs and puppies, too. We also need bottle-feeders for kittens found with no mother. Email us for more info!


Who We Are
We are Animal Nation, a 501(c)3 non-profit animal rescue organization. We are an all-volunteer group, relying solely on donations to help the fur-souls we rescue. Our modest adoption fees barely cover the routine vetting we provide for each animal, let alone the food, supplies and/or any additional vet care needed if they are sick or have an existing health problem. The primary goal of our adoption program is placing the discarded animals in our local community into loving, permanent homes. Our rescue animals come from a variety of situations ranging from trapped or found litters of kittens that we spend weeks socializing to owner surrenders, to animals dumped in a box at the door of veterinary offices or the local pounds. We help as many as we financially and physically can, however, we are a small group and must limit our numbers to ensure quality rescue and placement above all else.

Click here to donate securely via PayPal:

Donate to Animal Nation





Click here to become a Fan of Animal Nation on Facebook




For more information on our group, to surrender an animal, Please Email: PurrSouls@gmail.com Animal Nation is an organization dedicated to ending animal cruelty, and promoting respect and kindness for all living beings. We currently have cats, kittens and small birds for adoption and often have dogs, exotics and small furries, too. We proudly support TNR. We DO NOT have a shelter - we rely on foster homes, our adoption center at PetSmart-Norwalk and occasionally vet boarding for our adoptable pets, and as such, it is always necessary to make an appointment to visit with our adoptables. We only show animals to pre-approved adopters. Visit our Website: www.animalnation.org for more info on our Wildlife and Farm Rescue program as well as for more information about our adoptables and how YOU can help us help them.



Register on www.iGive.com (it's free!), select us as your cause of choice, and donations will be made to Animal Nation every time you search the web, or shop at one of thousands of online retailers! How easy is that?

Just click here to get started:
Adopting a friend
Our adoption process is simple. Email us for the application. Fill it out and email it back to us. You'll be contacted within 4 days or so to let you know if you've been approved. Once approved, we will set up a time for you to meet the adoptable pet. Our adoption fee is $150 for cats/kittens and $250 for dogs/puppies. Our fees include spay/neuter, age appropriate vaccines, microchipping, deworming, FIV/FLV testing for kittens/cats and heartworm-lyme testing for dogs. ALL of our pets, including young kittens, are spayed or neutered prior to adoption unless there is a medical reason that they cannot have the surgery. Our pet-bird adoption fees are specific to the individual birds. We do not charge an adoption fee for our spayed and neutered barn-cats, but you must still fill out an application and be approved to adopt them into your barn-setting. Please be patient - we work as fast as we are able, but we are all volunteers and work full-time jobs in addition to rescue. Surely you are willing to wait a few days if you are looking to add a pet to your family for the next 15 years.


---
Animal Nation
Our fosters are located in: Darien, Stamford & Norwalk, CT
Email: PurrSouls@gmail.com


Our Mailing Address is:
Animal Nation
P.O. Box 905
Rye, NY 10580


Email: PurrSouls@gmail.com
Click here for a list of pets at this shelter

---

[Home] [Information] [Shelters] [Search]