Danbury Animal Welfare Society Inc.
---
Who We Are
We are a non-profit, no-kill animal welfare group working in the greater Danbury, CT area. We have a large selection of cats, dogs, kittens and sometimes puppies at our shelter in Bethel, Connecticut.
Adopting a friend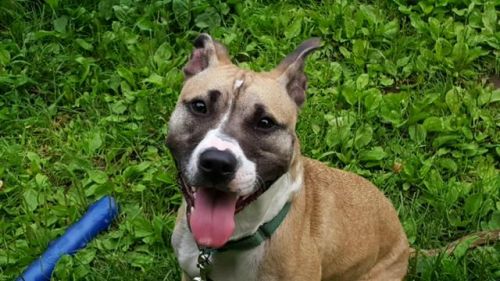 Charity

"TO GIVE FROM THE HEART"

That's what my friends at DAWS told me my name Charity means. I'm a one year old Shepherd mix, and I was named Charity for a reason. The DAWS humans who have taken care of me have given me so much from their own hearts. When I first came to DAWS last winter, I was injured and had been badly bitten. My beloved friends in the clinic helped me heal. Because the origin of my bites was unknown, I was put on something they called quarantine, and could only be around certain people. I grew to love these people dearly, but it was also scary not being able to get to know everyone around me. After six months of this quarantine, I was allowed to be around everyone, but that was a big change for me. I knew the people who first helped me would always be kind to me, but I was leery of strangers. My closest friends at DAWS have been helping me trust more and more people, though, and I'm making more friends. And guess what else? I'm also learning how to have fun! I love playing in the yard with my toys and swimming in the pool. It's even better when one of my doggy friends is with me! I'm really fast, and when I'm out in the yard playing it always makes my human friends laugh! I love to make them laugh, so I do goofy things like make up silly tricks with my water bowl! Please check my full bio on our "Pet List"


Come Visit Us!
ADOPTION HOURS
CATS:
Year Round:
Monday - Friday 6-8 p.m.
Saturday/Sunday 2-4 p.m.
DOGS:
Year Round:
Wednesday - Friday 6-8 p.m.
Saturday/Sunday 2-4 p.m.

ADOPTION FEES CATS:
Adult Cats (4months+): $125
Kittens (under 4 months): $150
All adoption fees include: spay/neuter, age appropriate vaccinations, FeLV/FIV testing, and veterinary exam.

DOGS:$275 (over 4 months of age)
Puppies:$300 (under 4 months of age)
All canine adoption fees include: spay/neuter, rabies/distemper/bordatella/canine influenza vaccines, heartworm/lyme/erchlichia bloodtests,flea & tick treatment, heartworm preventative and microchipping.

---
Danbury Animal Welfare Society Inc.
147 Grassy Plain Street
Bethel CT 06801
Website: www.daws.org
Email: daws@daws.org

Click here for a list of pets at this shelter

---

[Home] [Information] [Shelters] [Search]