Kitty Angels of Connecticut Inc
Coventry, Connecticut
Looking for Heavenly Homes...
---
Kitty Angels State of the Shelter Report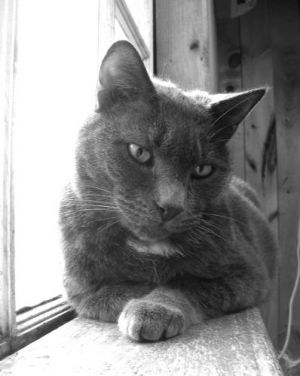 Quote:
"Until one has loved an animal, a part of one's soul remains unawakened." ~ Anatole France
Hi Cat Friends! Welcome to our web site! We are Kitty Angels Cats, who live here and wait for good homes with big hearts. Some of us have to stay here but there are lots of friends who need love and homes!
On the pictures above you see me, Fu (a.k.a. :"Fu on You" as I love to sit on your shoulders and observe the surroundings), the Mayor of the Shelter and Buzz (the gray kitty), who was my friend and co-partner in the Kitty Angels Council. Buzz passed away in 2011 and we miss him tremendously.
Fu, the Mayor of the Kitty Angels is here with the State of the Shelter report .
Please Visit Our other cool web site:
Please check out our other awesome website: WWW.KITTYANGELSOFCT.ORG. There you can see great pictures of all of us and the shelter, listen to Scott Haney's report when he came to visit up at the shelter and meet Sandi (we were so proud of her and us), and just see how we really live. You can also make donations to help with the cause which we would all really appreciate! We also have some great stories about our brother and sisters who haver been adopted along with a special story of Raina, our sister born with no eyes, but a heart of gold. She is a special one.
Kitty Angels at Petco in Glastonbury, CT:
Please stop by Petco in Glastonbury, CT each Saturday, we have cats & kittens from our shelter that you can meet and greet. Please come and see the cats.!
BARN CATS AKA FARMER'S CATS IN NEED OF HOMES!!!
We are in the process of Trapping & Neutering cats that would make wonderful additions to your barn. The cat is the perfect hunter & can stalk mice to keep them away from your home & valuable hay. Barn cats have an amazing sense of smell, hearing and sight & can see in most hard places. The Barn cat as the name implies, thrives in rural areas in farms and in barns. Most hunting is done at dusk, night & dawn. Most of the day is spent lying lazily around the barn until the next hunt. Barn cats will control your rate & mice issue for a healthier environment. The cats we have available as Barn Cats have been vaccinated and neutered so this is done for you. We provide you with assistance and instructions on the best way to acclimate your new barn cat to you and your environment. Our goal is to have a happy, healthy, satisfied barn cat and you a happy owner. Please reach out to kittyangelsofct@me.com if you are interested in a barn cat.
Volunteering Opportunities: We, cats, love company!
On the rescue front we haven't been able to do very much because we are so full and struggling to keep up with those of us who are here so if you are considering volunteering, now is the time ! The Kitty Angels of CT is always looking for people who would like to help out. Just come down and pay attention to us - brush and play - please, please, please! It is also a great opportunity for cat lovers, who cannot have their own pet at home because of various reasons. Stop by and check us out! We love company!
Fostering Opportunities:
We also need to let you know that we are looking for adopters as well as people who might be able to foster kittens or cats or volunteer at the shelter. Sandi gets calls almost every day about litters of kittens needing help so we would really love help with fostering of kittens right now.
Last words from Fu a.k.a. "Fu on You", the Mayor of the Shelter::
Please bear with us while we make a comment about adopting full grown cats. There are many fabulous cats at the shelter young and old that are extremely friendly and loving and who would really like to have their own humans to make happy and their lives fulfilled. We have had people tell us that they are concerned about them being wild and not litter trained and other not so nice stuff. We want you to know that those things are just NOT true! As the Mayor of the Shelter I can assure you that we do not allow residents to be adopted unless they are litter trained, spayed/neutered, current on vaccinations and able to get along well with people! Another thing to remember is that when you adopt a full grown cat you will have a much better idea of their personality and how they will be with you than when you adopt a kitten. Cats are not at the shelter because of bad things they did. They are here because their humans couldn't care for them anymore or bad things happened to them (people abused them etc.) By adopting one you can give them a second chance. Believe us, they'll thank you for it and give you lots of love in return ! Please call, make an appointment and check us out! You can make a difference in someone's life!! Be it today! Email us at kittyangelsofct@me.com

That's all for now.

Happy days everyone. And remember to keep smiling!
Who We Are
Kitty Angels of Connecticut is a no-kill cat shelter, sanctuary, and rescue service located in Coventry, Connecticut. Please see the monthly report above from Fu, the Mayor of the Kitty Angels Cat Council.
Adopting a friend
When you adopt a cat or kitten from Kitty Angel's they will have been spayed or neutered (if they are too young when they are adopted we have you bring them back for this when they are ready), been tested for feline leukemia and FIV, and have their first distemper shot. The fee we charge for your cat or kitten to support the shelter is $150 which is much less than the going rate for these things at your local vet.
Come Visit Us!
We would love to have you come visit and meet us. We are at Petco in Glastonbury, CT most weekends, so please come see us there. Our hours for the shelter vary by week so please call 860-634-1427 to set up an appointment to go to the shelter and meet Sandi and all of us. If you are interested in volunteering, please call Bruce at 860-424-7304.
---
Kitty Angels of Connecticut Inc
PO Box 508

Coventry, CT 06238
Email:


See our cats available for adoption



---

[Home] [Information] [Shelters] [Search]