Friends of Felines, Inc.
---
Our Featured Pet...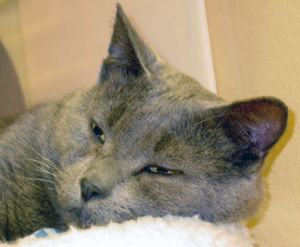 Marty!
Click on the name above to learn more about this handsome kitty who is just waiting for someone to curl up with and watch football.
Update on Last Month's Featured Pet:
Jazz and Monet are two young brothers who found themselves homeless because their mom died. Living in a vet hospital, they were safe, but we bet they would be so much happier in a real home with their very own family to cuddle. And now they are. Their new mom is a musician and dad is an artist -- what a purr-fect match.
News
Adoption Events: Come meet some of our wonderful kittens/cats looking for homes. We'll be at: PetSmart (288 West Ave., Stamford) on Saturday June 7 and Saturday, June 21. Adoption events are from 12:00 - 3:00 pm.
Who We Are
Friends of Felines, Inc. is a no-kill organization dedicated to caring for homeless and forgotten felines in our community through Trap-Neuter-Return, responsible adoptions and humane education.
Adopting a friend
If you are interested in meeting one of our cats, please fill out an on-line application as completely as possible at http://www.adoptapet.org. Please be aware that we are located in lower Fairfield county and prefer to place our cats close to home.
Come Visit Us!
We don't have a shelter, but some Friends of Felines' cats and kittens are having sleepovers at the PetSmart store in Stamford. All are welcome to visit and observe the cats at their PetSmart home, located at 288 West Ave, Stamford (telephone 203-353-9807). Friends of Felines is also proud to announce a new level of partnership with Just Cats Veterinary Hospital, which has been providing veterinary care in our area since 1991. Their brand new facility at 1029 East Main Street in Stamford has an adoption area inside the Just Cats Store on the first level. Come in and visit some of the Friends of Felines cats and kittens that are waiting for adoption. The Just Cats store and adoption area are open from 8 am Monday through Saturday. Following your visit, should any cat or kitten pique your interest, you can fill out an application (available on-line at www.adoptapet.org.)
---
Friends of Felines, Inc.
P.O. Box 8147
Stamford, CT 06905
Phone: 203-363-0220
http://www.adoptapet.org
Email: cats@adoptapet.org
Click here for a list of pets at this shelter

---

[Home] [Information] [Shelters] [Search]