German Shepherd Rescue
of Orange County
---
Our Featured Dog...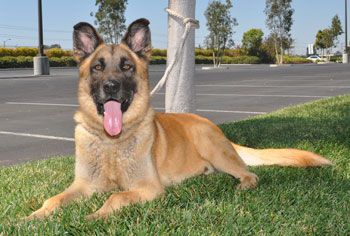 Henry is ready to be your best friend...
Last month's featured dog "Maggie" found her forever home!
'SHOES FOR SHEPHERDS' A RESOUNDING SUCCESS!
Some people give the shirt off their back for those in need, the generous students of CSUF gave the shoes off their feet for the GSROC dogs. Thanks to the hard work and dedication of a team of PR students that worked with the rescue this semester, 505 pairs of shoes were collected and donated as part of their "Shoes for Shepherds" Drive on campus! These shoes will in turn be recycled for money that will help pay for the many expenses that come with providing the best care we can for all our dogs! Thank you to all who have gone barefoot for dogs!
Where Our Dogs Come From
Approximately 50% of the dogs that we rescue come to us directly from owners who are no longer able to care for them for one reason or another. The number one reason that we receive dogs is one Moving, with the number two reason of No time for is a close second. Dogs also come to us when owners become ill or hospitalized, when owners pass away, when families lose their homes or lifestyles change. The other 50% of the dogs in our care are plucked from public animal shelters throughout Southern California when no owner comes to claim them or when they are no longer wanted. We race to save as many of these dogs into our care as we can, however limited space and resources constantly make our task difficult.

Adoption Guidelines
Through a careful screening process, we place loving dogs into forever homes with compassionate individuals and families. We begin with an Application, which tells us more about an individual's experience level, lifestyle, other pets, preferences, etc. so that we can recommend dogs that best fit the home. Prospective adopters are encouraged to meet various dogs and to bring all family members and existing pets to meet the dogs that are in consideration. Once the dog has been selected, we perform a routine Home Visit to ensure that the dog will be safe from any hazards, poisons, or dangerous situations. At this time, we advise the adopter if there are any repairs or corrections that need to be made prior to the dog coming home. Adopters pledge to love and care for the adopted dog throughout its entire lifetime. In the event that an adopter is no longer able to care for a dog, we insist that it come back into our rescue safety net for re-homing. Due to financial and logistical limitations, we do not place dogs out of the Southern California area. Our minimum Adoption Donation is $375 for adult dogs and $475 for puppies 1 year and under. This donation (tax deductible as allowed by law) helps to offset the costs that we have incurred for the dog's care and housing during his or her stay with our group. All dogs adopted through GSROC are spayed or neutered, current on their vaccines and de-wormed. Because the minimum Adoption Donation rarely covers the costs associated with each dog, we ask that adopters who are in a position to give additional funds do so at their discretion. We also ask our adopters to help us spread the word about the important work that we do.
Come Visit Us at Our Adoption Events!
Check our EVENTS page for places where you can meet our dogs and volunteers and learn more about us.
---
German Shepherd Rescue of Orange County
177F Riverside Avenue Ste. 111
Newport Beach, CA 92663
http://www.gsroc.org
Phone: 714.974.7762

Email: adoption@gsroc.org
Click here for a list of pets at this shelter

---

[Home] [Information] [Shelters] [Search]