Helping Persian Cats, a 501(c)(3) nonprofit organization
---
Our Featured Cats...
DASH My personality is quite extraordinary. I was living on the side of a busy freeway onramp by the airport and had to survive on the streets for almost a year. Some nice people came and rescued me so I could find my human to love furrrever. With that said, I thrive on human companionship and get super excited when someone walks in (probably cause I was so cold and lonely out there on the streets). I get so happy in fact, that I need to open my mouth to purr as heavy and loud as I do, which my foster mommy says cracks her up (it makes her laugh). Once you walk through the front door, Iím like your shadow and will follow you around waiting for the lovefest to begin . Being stroked on my head and scratched under my chin are my most favorite spots which triggers biscuit making. In fact, I make enough biscuits for an army. Once I settle down from the excitement of having my company come home, I plop down next to you and will just lay and purr and fall asleep with contentment. At this point, I enjoy just having a hand lay on me so I feel the constant physical touch from my human. That helps me know that Iím not alone. Oh, I enjoy spooning at bedtime too. I will purrrr you right to a sound peaceful sleep. So, if youíre looking for a great kitty who yearns human companionship and is good with other cats, Iím the fellow for you.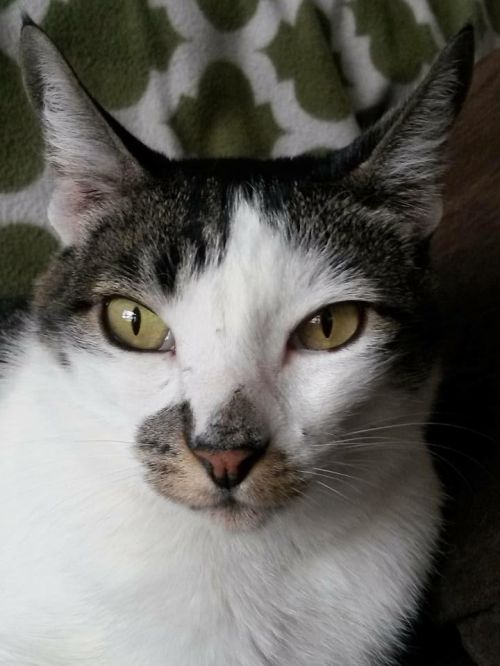 DASH!!
Adopting a friend
If you'd like to adopt a cat from Helping Persian Cats, at a minimum, we require completion of an adoption application, an interview, a vet reference, and permission to contact your landlord if you are renting. We love our adoptable cats, and want to make sure our applicants are committed to adopting these lovely creatures and giving them a lifetime of kindness, love, care and happiness!.......Because we want to meet all adopters, and to best ensure the physical safety of the cats in our care, we do not ship cats!
We have another website, www.helpingpersiancats.org, which has more information about our group.
Many people are shocked to learn that breed cats end up in animal control shelters, especially the lovely Persians and Himalayans. Often, people think that breed cats in "the pound" are not at risk - and that someone will surely want to adopt them. Not true! We are often called by animal shelter employees who request that we take in a breed shelter cat who is at risk of euthanasia. The euthanasia rate for cats is 60-70% at many animal control shelters in southern California and across the state!
Please remember that no matter how hard rescuers try, we cannot do this alone. Please adopt a shelter pet, or please adopt from a rescue group.
---
Nonprofit Status of Helping Persian Cats
Helping Persian Cats was organized as a nonprofit corporation in the State of California on April 14, 2004. Helping Persian Cats was approved by the Internal Revenue Service as an exempt charity under IRS code section 501(c)(3)., as of April 14, 2004. According to the IRS, contributions to Helping Persian Cats are deductible under section 170 of the Code. Helping Persian Cats is qualified to receive tax deductible bequests, devises, transfers or gifts under section 2055, 2106 and 2522 of the Code.
---
Donations
Would you like to assist us in our rescue efforts? Donations are desperately needed and gratefully accepted. Helping Persian Cats has a specifically designated Paypal account. Donations can be sent through the following email address at www.Paypal.com - vmcmorris@adelphia.net. Thank you.
If you can make a donation to assist us with vet bills, medications, transportation, boarding - that would be greatly appreciated. To do so, go to www.Paypal.com, and send your donation to Helping Persian Cats at vmcmorris@adelphia.net. It's a good thing, and it's tax deductible! Or, for an easier way to donate, just click on the button below. Thank you!
---
News and Events
Helping Persian Cats Adoptions -We show our adoptable cats at least twice a month on Saturdays (check for dates on our cat listings on petfinder, or on our website at www.helpingpersians.com) We are there from NOON to 3:30 at Petco in Santa Monica, at 2910 Wilshire Blvd, west of the 405 freeway, on the corner or Wilshire and Yale. Our rescue group depends on a network of qualified responsible foster homes, who will be more than willing to help you meet the cat of your dreams!
---
Volunteer Opportunities
.
Do you have a special talent you'd like to share? We'd love to have more help for our rescue group. We need foster homes, people to help with special adoption events, people who want to get involved in fundraising and writing grants, people who want to pick up cats from animal shelters and drive them to the vet for their pre-foster home exams, and even someone who might be able to help maintain our website. If you're able to spend even just a few hours volunteering, please contact Venita at vmcmorris@hotmail.com. Thank you.
---
Who We Are
Helping Persian Cats rescues Persians, Himalayans, Exotic Short Hairs, Scottish Folds, British Short Hairs, and other cats, and places them in responsible and loving homes with people who care! Our network of volunteers rescues primarily purebred cats, from local animal shelters in the Southern California area, and from breeders who are no longer able to care for their cats, and from private owners in special circumstances.

We believe that the happiest and healthiest life for a cat is as a spayed or neutered pet. Responsible pet owners, breeders and rescuers spay and neuter ALL cats BEFORE placing them in new homes, without exception. We do not rely on "promises" to get the operation performed in the future. The correct age to spay or neuter a kitten is 8-16 weeks of age, depending on their development, no later. Kittens bounce back from the surgery much more easily at this age. We will NOT adopt out any cat or kitten without having spayed or neutered them BEFORE they go to their new family.

If you happen to have adult cats or kittens who still need to be spayed or neutered, please do the right thing, for their sake, and in the interests of reducing pet overpopulation. Please have all of your animals spayed or neutered right away. If you need information about spay/neuter resources in your community, please email us at helpingpersians@hotmail.com.

We're on Facebook! Come join us there. Just search for Helping Persian Cats, and you will see many photos of our newly rescued cats, adoptable cats, and our HPC alumni kitties!
---
Thank You
.
Thank you to Dr. Leach, Dr. Turner, Dr. Kirksey, Dr. Wakeheart, Dr. Fabergast, Dr. Chou and the staff at BEVERLY OAKS ANIMAL HOSPITAL AND PET RESORT at 14302 Ventura Blvd. in Sherman Oaks (818-788-2022), for your excellent veterinarian care and support of our daily rescue efforts. We appreciate the high quality care you provide, and everything you do for our rescue group, and for many others. http://beverlyoaksanimalhospcom.verizonsupersite.com/door/
.
Thank you to all of our volunteers! Thank you for your strength and dedication, and for caring so deeply for the cats who need our help. Thank you to: Dawn Fairchild, Nadia Jordan, Erling Hedkvist, Tallie Paz, Paula Dold, Kyla Kelly, Annie Anchulis, Isiltan Alhan, Jenn Gers, Jordan Salim, Christi Lester, Dayna Watson, Dawna Zeeman, Hannah Rae Beale, Ryan Hunter, Charles Beale, Brittany Ludwig, Marsha Johnson, Renee Niemi, Debi Schmitt, Linda Schulz, Lorraine Shelton, and Linda Williams! <
---
Helping Persian Cats
Beverly Hills, CA 90210
Phone: 310-409-5086

---

Email: helpingpersians@hotmail.com
Click here for a list of pets at this shelter

---

[Home] [Information] [Shelters] [Search]