Catahoula Rescue Inc.
PLEASE NOTE: Dogs located through the general petfinder link that are listed as Catahoulas are not necessarily Catahoula Rescue Inc. Dogs up for adoption and breed ID is not necessarily accurate to the breed specifics that makes up the true Catahoula or Catahoula mixes we strive to save and adopt out. Please note that many rescues believe that if a dog has spots it has to be Catahoula and they may represent it as such without realizing what really makes up our breed. We are not Spotted Dog Rescue, we strive to rescue what we know to exibit the true Catahoula traits. If we post a dog here that we feel is low Catahoula or not Catahoula at all we will state it clearly in the dog's bio
---
---
Our Featured Pet...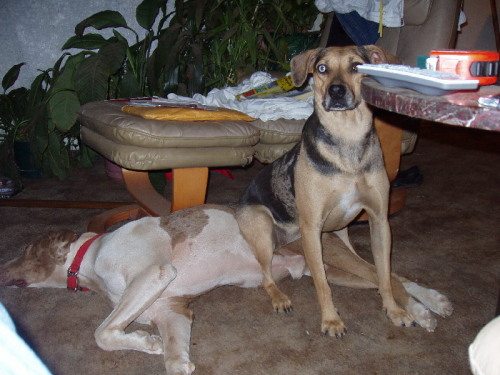 Here she is. She was known as Elmo's Girl but she has a new name and a new life. A purebred Catahoula that came into rescue very much in need and kind of afraid, now she has a home and family and while she had a little hard time adjusting she now is one happy girl. Her photo says it all. News Catahoula Rescue Inc. is growing. Please visit our website and look at Mondays dogs on FACEBOOK, critical dogs in need.These are shelter dogs or urgent dogs that have little time and no one to care and help them. Catahoula Rescue also has a message board with rescue activity shining forth in real day to day efforts to save and rehab dogs who would be without hope and a future. This web page is dedicated to the very few, but hard working group of California-Catahoula Rescue Inc. volunteers. Their selfless giving of their time, energy and funds is inspiring. VOLUNTEERS NEEDED: Catahoula Rescue Inc. needs volunteers to help save these great dogs. We need people not only to help foster, but to assist in many other ways. This includes, transporting, checking shelters, photographing dogs, helping with placement and home checks, etc. If you are interested in becoming a volunteer, please contact Janeen Jackson jj4@midrivers.com or phone 406-323-3519 and find out how to help California Catahoulas
Or make tax deductible donations via check or money order made out to:
Catahoula Rescue, Inc.
71 Rehder Rd
Roundup, MT 59072-6629



WILL YOU HELP? EVEN A LITTLE DONATION IS OF VALUE AND ALL DONATIONS ARE TAX DEDUCTIBLE AT YEAR END. WE THANK YOU AND SO DO OUR DOGS THAT HAVE A NEW CHANCE TO LIVE, TO START ALL OVER. DON'T WE ALL LOVE ANOTHER CHANCE? Paypal is jj5@midrivers.com
CHECK OUT OUR FACEBOOK PAGES. CATAHOULA RESCUE SOUTH CENTRAL; and CATAHOULA RESCUE NORTH, join our group CATAHOULA RESCUE NORTHWEST. and CATAHOULA RESCUE MONDAYS DOGS which show urgent dogs in shelters or in immediate danger and in need of foster or adopters. Please choose to like us and share us with your friends. Keep abreast of all we are doing daily to save these wonderful dogs. WE NEED YOUR INTEREST AND SUPPORT, THEY NEED IT.
Who We Are
The CATAHOULA RESCUE NETWORK is a coalition of Independent Catahoula rescue groups across the United States. CATAHOULA RESCUE, INC. is an incorporated, nonprofit organization that works with the Rescue Network. We are an all volunteer organization. The mission of Catahoula Rescue Inc. is to advocate for homeless Catahoulas and Catahoula mixes, to place these animals in permanent, loving homes, and to promote responsible guardianship through humane education. Catahoula Rescue saves dogs from death row at animal shelters and pounds, rehabilitates them if necessary, provides medical care, including spaying and neutering, and then fosters these dogs in volunteers homes until a suitable forever home can be found. We also assist responsible Catahoula owners if they must find a new home for their dog. We can offer advice and options that might make it possible for the dog to stay with it's family. If it is still necessary to rehome the dog, we will list him/her on our available pets page as long as they are up to date on Vaccinations and spayed or neutered. Because of the flood of dogs coming from shelters, it is unlikely we can provide a foster home for an owner surrendered dog. Catahoula Rescue receives no funds from other groups or government sources. Our work is paid for by donations, adoption fees and the volunteers themselves. For more information, please visit http://www.catahoularescue.com/
Adopting a friend
The first step in adopting a Catahoula is to fill out an adoption application. An application can be obtained by contacting Janeen Jackson, Coordinator at Large, jj4@midrivers.com The Rep will respond back as soon as possible by email. Please write: Catahoula-Petfinder-application in the Re: line. We have dogs coming into rescue on a continuing basis, so if we do not have the dog you are looking for now, check back or fill out an application and we will notify you when a dog fitting your description comes into rescue. Rescue does change by the moments so please do check back and keep in touch with us. All dogs are spayed or neutered and up to date on all vaccinations, some microchipped. Adoption fees help to offset the expenses incurred in rescue. The minimum adoption fee is $200.00
---
Catahoula Rescue Inc.



Please, e-mail inquiries to: jj4@midrivers.com

Email: Janeen Jackson

Click here for a list of pets at this shelter

---

[Home] [Information] [Shelters] [Search]