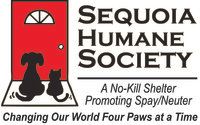 Sequoia Humane Society
Who We Are
The Sequoia Humane Society is a no-kill shelter whose mission is to be a community leader in reducing pet overpopulation by providing a high-standard of care and through programs such as adoptions, spay/neuter and education. As a no-kill shelter, many of our residents stay with us for several months, even as long as a year or more – however long it takes to find them a forever home. A shelter environment can be stressful for animals, so we work hard to provide the cats and dogs in our care with enriching activities – and of course, lots of love! Cats live in a communal room, with ramps and perches decorating their living space and providing exercise and a vantage point from which to spy on their visitors They even have an enclosed outdoor area in which to sun themselves. All dogs are walked three times a day, and rotated in outdoor exercise areas. Volunteers often take dogs on offsite excursions to the beach or to other places around town where they can meet potential adopters. Staff spends a little time every day teaching the dogs good manners – some of them even get to work out on a treadmill! Our philosophy at the Sequoia Humane Society is that animals are "people" too, and they deserve our love and respect. We aim to place every pet that comes to us in a loving, forever home where they will be welcomed as a family member. The Sequoia Humane Society is a 501(c)3 non-profit no-kill organization fully supported by donations. All donations are deductible to the fullest extent of the law. Tax ID# 23-7102713

Vision:
We envision a community where all animals are treated humanely, all pets live in responsible, caring homes, and euthanasia is no longer a means of population control.
Mission:
To be a community leader in promoting the humane treatment of all animals, and end pet overpopulation by providing a high standard of care and through programs such as pet adoption, spay and neuter and community education.

Changing our World Four Paws at a Time!
Adopting a friend
Our adoption process involves completing an application form and meeting with an adoption counselor who can help potential adopters find the right animal for their situation and clarify the responsibilities of pet ownership.
Cost of care continues to increase thus our adoption donation is now $150.00. Puppies born at Sequoia Humane Shelter have an additional donation of $50.00 due to the extra care and board costs. This includes the spay/neuter fee, first vaccinations, microchip, FELV/FIV (cat) & Heartworm/Lymes (dog) test, and all other care the animal has received.
FREE PET HEALTH INSURANCE WITH ANIMALS ADOPTED FROM THE SEQUOIA HUMANE SOCIETY

Come Visit Us!
We are located just east of US HWY 101 at the King Salmon exit a few miles south of Eureka, California. Our Pet Adoption Center is open for adoptions from Noon to 5 p.m. Tuesday through Saturday. Visit our website www.sequoiahumane.org and "like" our facebook page www.facebook.com/sequoiahumane.eureka for a sampling of animals currently available for adoption. We are partially funded by proceeds of our Tailwaggers Thrift Shop. The volunteer-run shop is located at 2737 F Street in Eureka. All proceeds from the sale of gently used merchandise are used to support our work on behalf of the homeless and abused animals of Humboldt County.
---
Sequoia Humane Society
6073 Loma Avenue
Eureka, CA 95503
Phone: (707)442-1782
Email: info@sequoiahumane.org
www.sequoiahumane.org
www.facebook.com/sequoiahumane.eureka



Click here for a list of pets at this shelter




---

[Home] [Information] [Shelters] [Search]