---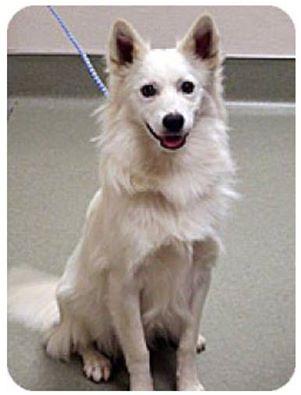 Heart Bandits - Greater Los Angeles Chapter
We are a local Southern California Chapter of Heart Bandits, a USA/Canada-based rescue organization for American Eskimo Dogs. Although the Eskie is our speciality, this Chapter has expanded and also handles various small-to-medium breeds including mixes. Our weight limit and foster network determines the variety of breeds we are able to rescue, rehabilitate and rehome. You will often find us in a local shelter scouting or close to a phone ready to run to pick up any stray that is out of time and needs a place to go as their time is up. This volunteerism also applies to qualified owner surrender cases for those who can no longer care for their pet, or lost-n-found pups that may need to find a place to go. We are a team of good samaritans who are rescue-friendly and willing to help a dog in need in a pinch. We pride ourselves on our determination and dedication to the rescue effort and hope that many more lives will be saved through our efforts.
---
Adopting a Friend
To adopt one of our pets, an adoption application is required that includes a vet reference. We also require a home visit prior to placement.
Our adoption fees are $250 for most adult dogs, and $300 for most toy and small breeds. Our puppy adoption fees range from $400 to $600 depending on puppy choosen. Our fees offset the costs to rescue our dogs, which includes: shelter fees, veterinary visits, vaccinations, spay or neuter, collar and leash, grooming and flea treatments as needed, crates/pens/dog-beds, dog food, and any other medical expenses that are neccessary prior to placement.
Please ask about our courtesy training referral when adopting a dog from us!
We have a 2 week in-home trial period with your new companion. If during this time-frame things do not work out, a refund or exchange is honored.
---
Come Visit Us!
You can make a date to meet our adoptable dogs near one of the Heart Bandits locations:
1. Greater Los Angeles Heart Bandits headquarters in the Downey area
2. Special weekend dog-adoption events in southern California (Click for upcoming events)
3. Heart Bandits weekend showings at the following places:
Every SATURDAY at PETCO, 1425 North Montebello Blvd, Montebello, CA 90640; 12 pm-4pm
Every SUNDAY at PETSMART, 26761 Aliso Creek Rd, Aliso Viejo, CA 92656; 11am-4pm (suspended due to City ordinances until further notice...call store for further details)
Every SUNDAY at PETSMART, 23602 El Toro Rd., Lake Forest, CA 92630; 12pm-4pm
We don't bring every available dog to every event, so if you have a certain doggie in mind, please call before the day of the event, to check with us! (213) 200-5158
---
Ready for Love?
TO MEET AND/OR ADOPT ONE OF OUR AVAILABLE DOGS:
Step 1. Complete a Heart Bandits Adoption Application
Step 2. Call Lori Pasch (213)200-5158 to let her know that your questionnaire was transmitted, and arrange a doggie date!


Click here to see one of our Happy Tails: Heidi!
---
Support Heart Bandits!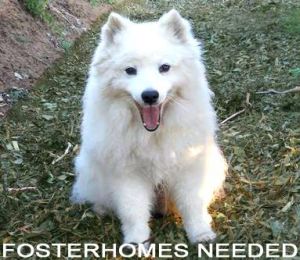 Volunteer Foster Homes
New foster homes are needed every week, because the southern California animal shelters are overrun with abandoned, lost, ill, and senior American Eskimo dogs. Please consider volunteering as a waystation, to save an eskie's life. Read about fosterhome volunteering at the Heart Bandits website! If you have questions please call Lori Pasch at (213) 200-5158.
Event Volunteers
Volunteers are needed for our adoption events. You can attend one of the regularly-scheduled weekend events, or volunteer for one of the big events. Attending an event involves unloading doggies from vehicles and crates, setting up display pens, walking the dogs (they love that part!), brushing, feeding, cleaning, taking photos of the dogs, talking to visitors and adoption prospects, etc. For details contact Lori Pasch (see below). Click here to read a fun blog entry by one of our volunteers!
Computer Volunteers
Computer volunteers are needed too! You can help us track dogs that are listed on animal-shelter websites, network dogs on Facebook, update our database, etc. For details contact Lori Pasch (see below).
Support and Donations
"Like" Heart Bandits GLA on FACEBOOK
Purchase a LIGHT-UP LEASH to support Heart Bandits National
Purchase your own PET SAFETY KIT to support Heart Bandits locally
SUPPORT Heart Bandits National via iGive
SUPPORT Heart Bandits National via GoodSearch
---
Heart Bandits - Greater Los Angeles Chapter
PO Box 39635
Downey CA 90239
Phone: (213) 200-5158
Email: LoriPasch@yahoo.com
---

[Home] [Information] [Shelters] [Search]