Shorty's Rescue is a small and busy organization of bully breed owners, rescuers, and supporters. Shorty Rossi started Shorty's Rescue in 2001 when he rescued Geisha out of the Los Angeles Animal Shelter. Since then he has never looked back. Shorty has owned American Staffordshire Terriers, a Dogo Argentino and bully breed mixes since the mid-80's and has found that these breeds are as misunderstood as he is.

Shorty's Rescue employees work tirelessly to help relieve the suffering of and prevent cruelty to bully breeds through their alliance with bully breed rescue groups, the A Dog A Day and Fund-A-Pitty Campaigns. Besides rescuing these breeds, through positive involvement in the community, Shorty's Pit Bull Rescue influences a healthy, much-deserved reputation for the breed. Shorty's Pit Bull Pet Stars have worked on several independent, student and short films as well as public-service commercials and various print ads. The group does volunteer work by visiting nursing homes, schools, functions and hospitals.

Not for Profit Shorty's Rescue does not operate as a 501c3, nonprofit rescue group, but we are not for profit. Shorty's Rescue is funded through Shortywood Productions.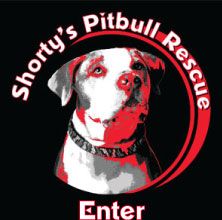 ---