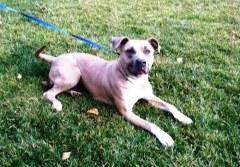 Dolche is a sweet girl looking for a family that can give her the attention she deserves. She will do best as the only animal in the family. She has a lot of energy and might be too exuberant for young children. But once she settles down, she loves belly rubs. She appears to have had some obedience training. If you are interested in meeting this fellow please give us a call at 916-984-0990.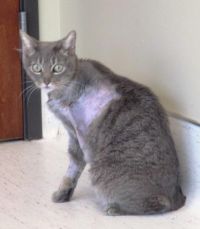 Bluebeard is a special needs cat that will need to live indoors. He is approx. 2-3 yrs old. Please call 916-984-0990 to schedule an appt to adopt this sweet boy.
News
January 19, 2014: One of our longest standing shelter pets was adopted today into his New Forever Home. It just goes to show you that there is always a perfect match. A Big Congratulations goes out to Tarzan and his new Owner! Gook luck dear friend in your new adventure. ~Until there are none, Adopt one!~ August 17, 2013: Don't forget to check out Stray-Z-Days coming up soon. Adoptions available for Cats, Dogs, Reptiles, Rabbits and more! Many shelters and rescue groups will be there too! Location: Folsom City Lions Park. 403 Stafford St. 10am - 2pm. For more information City of Folsom Animal Services (916) 439-2268 or strayzdays@gmail.com April 2012: Eggstravaganza was a wonderful day. Many of our adoptees were out strutting their stuff. Making friends with locals and hopefully finding new forever homes. Our next event will be posted soon. 2010: The raffle was a great success at Thursday Night Market. We are hoping to hold another raffle in the next few months for another custom pet portrait.
Who We Are
City Of Folsom Animal Shelter has been serving your area since July 2009.
We currently take in animals from the city of Folsom. Animals may be surrendered, or brought to us as a stray.
All animals are spayed/neutered, vaccinated with appropriate vaccines, microchipped, and heartworm/Felv/FIV tested.
All animals are able to viewed at Blue Ravine Animal Hospital located at 1770 Prairie City Road, Folsom, Ca 95630, (916)984-0990. The caring staff at Blue Ravine Animal hospital will allow you to spend some time with your potential new family member and may be able to answer some questions in regards to their disposition.
City Of Folsom Animal Shelter is currently looking for foster homes for these sweet animals. Animals are more able to grow ino their full potential with housed in a home environment. We would love for you to give one of us a fighting chance at really blossoming. Please inquire by contacting the shelter for additional information on fostering a dog or cat.
Donations are always welcome. Anything from monetary to helping with dog or cat food, towels, litter boxes, or by donating your time and fostering a lovely will always be appreciated.
Please keep in mind that all adoptions are on a first come first serve basis. Please keep in contact with us as to when animals are available for adoption. Dates of availability are subject to change. All pets will not be available for adoption until after 10 am on the day that they are ready.
Thank you,
City Of Folsom Animal Shelter
Come Visit Us!
---
1770 Prairie City Rd.
Folsom, CA. 95630
(916)984-0990
Email:
Email:cofshelter@gmail.com
Click here for a list of pets at this shelter
---

[Home] [Information] [Shelters] [Search]