Shadow's Fund
---
Our Featured Pet...
Meet Jo Jo! This 1 year old sweet heart will wiggle and kiss her way into your heart. She truly is a wigglebutt and an exuberant, youthful pup. Ready to go for a long hike or happy to stay on the couch, Jo Jo's happy to be wherever her people are. To read more about her story, please visit her pet page.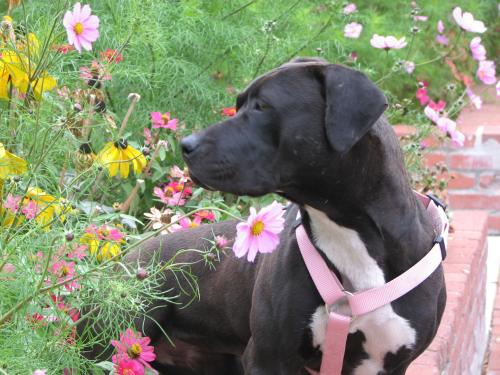 News
On 100 acres in northern Santa Barbara County Shadow's Fund has created the Sheltering Oak Sanctuary. Not just a sanctuary for rescued dogs, horses, pigs, chickens and other animals, but a project in balance with the land we're using. The native wildlife, and their habitat, is honored and will be left untouched. The trees and plants that grow on this land will remain and will be joined by more native plants. And, we are working towards a sustainable management plan for our energy and water needs - including wind, solar, and rainwater. In addition to the rescue, rehabilitation, and rehoming we currently do, we will offer educational clinics for animal behavior, training and responsible stewardship as well as clinics in the healing arts such as reiki. Within the safe haven of this special place, animals and people will have the time, space and love to heal and to move forward with happy, healthy lives. Thanks so much to all of our supporters, corporate donors and volunteers that have helped us realize this vision.
Who We Are
Shadow's Fund was created to provide rescue, rehabilitation and re-homing for seniors and other special needs dogs in shelters. Our goal is provide those without hope the chance to experience love and joy again.
Adopting a friend
Our adoption process includes an application, home check and trial foster period to be sure you and your new canine companion are a good match and will be happy together. We strive to place all of our rescued dogs in forever homes. If you would like to talk to us about fostering or adopting, please email info@shadowsfund.org.
Come Visit Us!
To schedule an appointment, please call or email us in advance. Contact information is below. Or visit us online at www.shadowsfund.org .
---
Shadow's Fund
PO Box 1472
Lompoc, CA 93438
Phone: 805 735-3165

Email: info@shadowsfund.org
Click here for a list of pets at this shelter

---

[Home] [Information] [Shelters] [Search]