The Rosebud Society, Inc.
URGENT HELP NEEDED!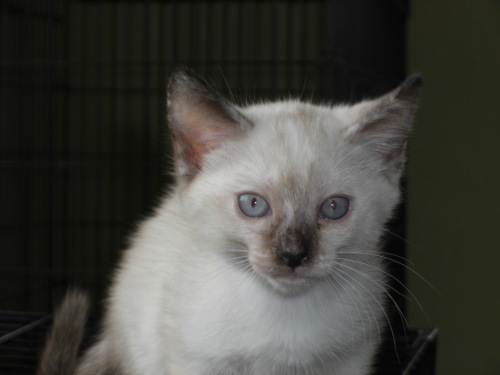 We are in urgent need of help with foster homes. There are ten Siamese cats that need temporary foster homes. They are in danger of being put to sleep soon. All costs associated with their foster will be handled by the Rosebud Society. If you live in the San Diego area, and feel that you can foster one or two cats, please email chriscat@therosebudsociety.com. Fostering cats is the perfect way to get your cat fix if you can only commit to a couple months of care. Fostering cats is also the perfect way to figure out if a cat is a good fit for your home. Please help us as we would like to rescue these cats from a shelter but have nowhere to house them. If you would like to donate to their care, we also accept donations and can provide receipts for tax-time purposes. We would also appreciate any help you can give toward spreading the word among friends that might be able to help foster. Thank you so much!
Please Donate!
We just had two very costly operations on rescued kittens. One had a telescoping intestine, and the other had a slight amputation on the foot. Please help us to keep helping kittens in need. Your donation is a tax write-off and a gift that keeps on giving. Please donate today!
Our Featured Pet...PRINCESS BUTTERCUP!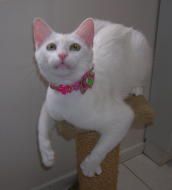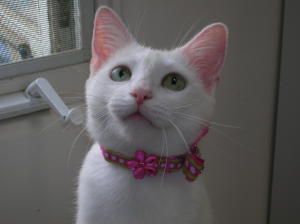 Princess Buttercup is awaiting her castle. Princess Buttercup has a tragic story, but you'd never know by her demeanor; she is friendly and outgoing, not to mention beautiful. And just like black cats, white cats are good luck too!

Princess Buttercup was left to her own vices after her owners moved and left her behind to fend for herself and her kittens. Princess Buttercup is a young cat, but has had two litters of kittens, a few of the kittens taken by coyotes. Her last litter she defended like a champion, only losing two. The other five that were rescued along with her have since been adopted. Now it's Princess Buttercup's turn. If Princess Buttercup looks like the perfect fit for your family, please call. She is good with other cats and children, and is spayed and up-to-date on all shots. She is sure to charm your family with her good looks, the good luck she will most assuredly bring and her friendly nature.
Who We Are
The Rosebud Society, Inc. is a 501(c)3 nonprofit organization dedicated to feline rescue and placement. The majority of our cats and kittens are taken from San Diego shelters at their request. These are animals that would be euthanized were we not to take them. They are the ill, the injured and those too tiny to survive to an adoptable age in a shelter environment. Our goal is to find permanent, loving homes for these cats and kittens with individuals committed to providing love and care for the life of the pet.
News
Thanks to our new Petfinder site, our kittens are being adopted left, right and center, which allows us to help even more kittens when we get those calls from the county animal shelters needing to offload kittens. In just one week we've had 2,206 views! Please spread the word about Rosebud. Send our Petfinder link to your friends so we can rescue more cats and kittens yet!
Adopting a friend
To see kittens and cats available for adoption at the Rosebud Society, please see our adoptable pet page. In addition to beautiful mixed-breed cat and kittens, we frequently have purebreds of many kinds, including Persians, Himalayans, Burmese and Siamese. Because we are often overwhelmed with rescue work, our adoptable pet list may not reflect the true number of cats or kittens we have available for adoption. Please always feel free to call or email and check on what beautiful cats and kittens we have available for adoption.
Come Visit Us!
The Rosebud Society has no shelter of its own, and relies instead on a small organized network of foster homes that provide temporary care for injured or sick cats, nursing mothers with litters of kittens, and orphan litters of kittens requiring around-the-clock nursing care. If you see a cat or kitten on our adoptable pet list that you are interested in, please call or email us at the telephone number or email address listed below to arrange a visit.
---
The Rosebud Society, Inc.
La Jolla, CA 92037
Phone: 858-459-8357

Email: adoptacat@therosebudsociety.com
Click here for a list of pets at this shelter

---

[Home] [Information] [Shelters] [Search]