B E F R I E N D E D - F E L I N E S
of San Luis Obispo County
Befriended Felines - Our Mission
Our mission is focused on rescue services and placement opportunities for those cats which stand
NO chance of getting out without rescue assistance.
Our aim is to help provide the gift of -- and quality life -- for those felines at highest risk in the county pound system:
those labeled fearful or feral, including those mislabeled or simply misunderstood.

Please help us continue our work with the "Unwanted" and "Unadoptable" souls of this county.
Donate and Thank You for your compassion
Come to Our Upcoming Adoption Events will be announced
and are usually from 11AM - 3:30 PM, See You There!
MEET OUR FEATURED PETs of Befriended Felines
Hoisen, aka Saucey Girl full of energy and
Purr Machine, patiently waiting for their furr ever home with you.

Click to see our featured pets!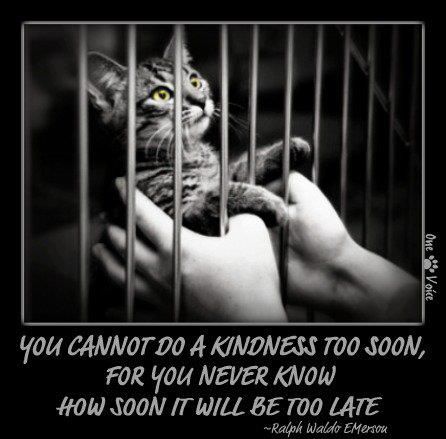 Extend your love to one of our felines who have been waiting so patiently
In Rescue we come across so many "Unwanted" and "Unadoptable" souls of this county.
These lives have a purpose, regardless of how long or short they are with us.
To Befriended Felines, there is no other option but to continue.
Please help us continue our work with the "Unwanted" and "Unadoptable" souls of this county.
Donate and Thank You for your compassion
Befriended Felines is a member of Rescue Alliance of hairless and Other Breeds, Inc.,
A Nationwide 501(c) 3 Non-Profit Animal Rescue Organization

UNCONDITIONAL Love for you when you adopt one of our special adoptable felines.
As of August 2016, 1346 Felines Rescued
and counting . . .

A tribute to SLO County Private Citizens of ACTION
Special Thanks to one of many of SLO Counties Best Compassion families, check out the link to read about them.
Patience, dedication pay off in rescue effort


Who We Are and Our Humble Beginnings
We are an all-volunteer, foster-based group which serves to assist felines at greatest risk at our county animal shelter. We only rescue cats which are assured to be euthanized for reasons of space, temperament and/or medical reasons without rescue assistance. Each of our volunteers has devoted a number of years, prior, volunteering at our county animal shelter (a.k.a. "the pound") and has firsthand experience in the tragic reality of the effects of homelessness on companion and feral animals. Many of the cats labeled "feral" by shelter standards prove to be merely tame, frightened animals simply needing a sense of safety, security and love. Our obligation is to those impounded which have no way out. And though we can not rescue all, we rescue as many as we responsibly can.

Adopting a friend
We seek out placement opportunities for tame, semi-tame and feral cats.

We seek out homes appropriate to the cats' needs.

Adoption fee for tame cats is $60.00.

We SPAY/NEUTER/VACCINATE and TEST.

Please don't forget us in your monthly bill pay, our work continues as we try to stop the killing and overpopulation.
FUNDS RAISED will help to cover costs for:
ONGOING purchases of FeLV/FIV test kits

almost monthly, a new box needs to be ordered at a discounted rate for a box of 30: equals approximately $460.00.

And to help support the ongoing costs of:

Spays, Neuters, Vaccinations, Worming & Flea Treatments, Ear Mite Treatments, etc. that take place practically on a weekly basis -- along with other unexpected medical conditions.

Finally day to day loving up keep for our felines

Food, Litter, Cleaning Supplies, and so much more
Click to see our events!
Funds are raised to rescue cats slated for euthanasia at the county animal shelter.
*We serve the needs of hundreds of rescued felines each year within SLO county

How to Donate & Help
For TAX DEDUCTIBLE DONATIONS,
Please make checks payable to
RESCUE ALLIANCE

AND VERY IMPORTANT -- please note in the memo section of the check:
"FOR BEFRIENDED FELINES".

This tax deductible donation will be graciously accepted by mailing to:
Befriended Felines
c/o J. Hodoian
2599 Ironwood Ave
Morro Bay, CA 93442

Our Affiliates
Rescue Alliance
North County Paws Cause
The Cat Habitat,

Feline Network of the Central Coast,
Alley Cat Allies
H.A.R.T. (Homeless Animal Rescue Team)

Contact Us!
Any suggestions, comments, or concerns about the website,
please email the webmistress: mkpatterson1@yahoo.com
BEFRIENDED FELINES
of San Luis Obispo County
Phone contact:
Cecile 805-788-0632;
Jamie 805-704-8544;
Mary Kay 805-461-5772 or 805-305-8827
Email:
BefriendedFelines@charter.net



PLEASE buy from a pet store that advocates rescued animals.

Here are just a few suggestions in the local area that offer rescue animals.

Tails Boutique
745 Higuera St San Luis Obispo CA
Phone: (805) 544-7387
Tails Boutique was voted BEST LOCAL PET SHOP 2008 in
a BEST OF 2008 ISSUE in the New Times Publication, San Luis Obispo

Petco, Next to Sears on Saturdays On Madonna Road
Petsmart in the Costco Shopping Center
On Saturdays at Most Lemos Farm Supplies

The Link below is an undercover investigation of California Petshops who buy from backyard breeders, So Please make sure you are adopting a rescue animal.



[Home] [Information] [Shelters] [Search]