Cats In Need of Human Care
Fullerton Chapter


---
---
---

We invite you to come meet the Cats in Need volunteers and our many adoptable cats and kittens at the Fullerton Petsmart, located at 1411 S. Harbor Blvd., Fullerton, CA 92832, every Saturday from 11 am to 4 pm. The kitties are patiently waiting for you to choose them, and for you to offer them the safe and loving "forever homes" that they so badly need and deserve. And please ask us about our 2-Kitty Discount! We look forward to your visit!



Please take some time to view all of the kitties listed on our website, and remember that you can meet them in person on Saturdays at the Fullerton Petsmart, 1411 S. Harbor Blvd., between 11 am and 4 pm. We will be there to assist you in finding the perfect one (or two!) to cure your "Empty Lap Syndrome" and make your happy family complete! And if you are interested in adopting "the kitties who need you the most", please do not hesitate to ask one of our adoption volunteers. They are familiar with the cats and kittens in our care (some who are not regularly brought to our weekend adoption events) and will be able to direct you to the kitties who are in the greatest need and to whom your love and care can make the greatest impact.



---


In order to adopt a furry friend there is an adoption application that must be filled out. All possible
applicants will be thoroughly screened. We like to make sure that you are adopting the kitty that would
be your best companion. There is a contract that must be filled out and signed before the adoption is complete.

All of our cats and kittens have been tested for Feline Leukemia Lirus (FeLV) and Feline Immunodeficiency Virus (FIV), had at least their
first 4-in-1 vaccination, are spayed or neutered, have been de-wormed, and treated for fleas. Please keep in mind
when adopting a cat or kitten that it is a lifetime commitment as they can live to be 20 years or more.

All cats and kittens must leave the store in a carrier!

For a copy of the adoption application please contact Barbara (catsinneedfullerton@yahoo.com).

---


Petsmart
1411 S. Harbor Blvd.
Fullerton, CA 92832
714-315-8259
E-mail: catsinneedfullerton@yahoo.com
Contact: Barbara Hus, Board Director/ Chapter Mgr
---


Cats in Need of Human Care is a 501(c)3 non-profit, NO KILL rescue organization. Our goal is to save as many cats and kittens in our community as we possibly can from abuse, homelessness and neglect, and to make every effort to give these animals the chance at having the best life possible in safe and loving homes. We also promote the importance of spaying and neutering all pets, the necessity of proper feline nutrition, and are tireless advocates for the Trap/Neuter/Release program in order to manage and eventually decrease the number of neighborhood feral cat colonies.


---


Cats In Need of Human Care is an all volunteer organization and depends on community donations.
Supplies always welcomed are:

monetary donations (100% Tax Deductible), you can send via PayPal directly to the Fullerton Chapter by paying to catsinneedfullerton@yahoo.com If you would prefer to mail a check, the mailing address is: 1411 S. Harbor Blvd Fullerton, CA 92832
food
litter
toys
bedding
anti-flea products

Please drop by our center during the adoption shows to drop off all donations.
All donations are tax deductible and will directly benefits the cats.


---


We are looking for dedicated volunteers to help at our cat adoptions shows in Fullerton. If you are able to
dedicate a few hours on Saturday and/or Sunday during the adoptions shows
we will be happy and grateful for your help.
Also, we are in need of new volunteers who would be willing to open their homes and hearts to foster cats or kittens. Our Foster Parents are special people who provide temporary housing and loving care until a cat/kitten is adopted into a permanent home. Please join our group of dedicated Foster Parents, volunteers able to welcome the needy little ones with open arms. You can make such a huge difference in the lives of rescued cats and kittens in our community.
Please contact Barbara Hus at catsinneedfullerton@yahoo.com for more information.


---

Volunteers at Cats In Need have conducted hundreds of successful adoptions! And, we love to hear about how the cats are adjusting to their new lives.
Send us your stories and we'll post as many as we can! To see a list of the cats we have adopted out. Please clink the "Happy Tails" link.


Figaro's Story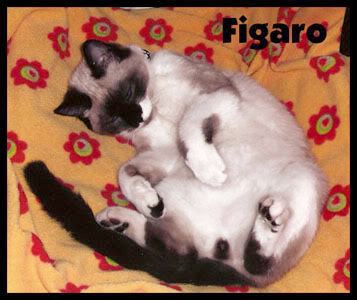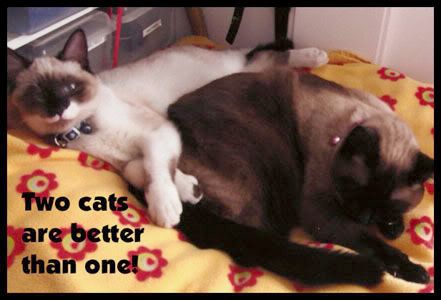 Dear Cats In Need,

We just wanted to thank you for bringing Teddy (who we now call Figaro) into our lives. He gives us so much joy, love and laughter.
He really is very special. We thought we would share some pictures with you so you could see how well he has adjusted to life
with our little family. The photo with Figaro and Lulu kitty is very recent and is particularly special to us.
We never thought we would see that day come and we're so excited to catch them together like that. Please feel free
to come by and visit. I know he would be excited to see you.

Sincerely,

Robert and Alicia
---


---