Arizona Siberian Husky Rescue Adoption Inc.
---
Our Featured Pet...
Indio is a young Siberian that was rescued from a Tucson Shelter last November. He came to us scared, sick and covered with bite wounds in varying stages of healing. He had an intestinal infection and was terrified of everything. When he saw another dog, he would hit the ground. Indio's foster parents have worked with him, given him lots of love and helped him gain back his confidence, so he's a much happier dog now. But in the course of veterinary trips for treatment of wounds and infections, we found out that Indio has juvenile cataracts and is almost blind. We think that this contributed in large part to his fears. We took him to a veterinary ophthalmologist for an evaluation and because his retinas are healthy, Indio is an excellent candidate for successful cataract surgery. The estimate for both eyes is between $3600 and $4400.
Since Indio is so young, less than 18 months old, we really want to give him his sight back. This is a huge expense for ASHRA so we need to raise more funds before he can have the surgery. Please help Indio get his sight back. You can donate via our home page or send a check to ASHRA, Inc. PO Box 14801, Scottsdale, AZ 85267. All donations are tax deductible.
News
Heart-To-Heart: A Walk in the Park to Save a Pet's Heart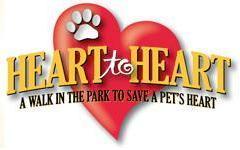 Presented by the Phoenix Animal Care Coalition (PACC911), over 40 rescue jumps are joing together during the Heart to Heart on February 14th at Indian Steele Park, centrally located at Indian School Rd and Central Ave. The event will be held from 9 AM through 2 PM and includes many events including demontrations, Agility and Lure courses.
For more information, please visit the website at PACC911 or call 602.992.4779.
Who We Are
ASHRA is a 501(c)(3), Non-Profit, Volunteer-run Organization that rescues Siberian Huskies and places them into Qualified Homes, as well as educates the public on the special needs of the Siberian. If you are not familiar with the Siberian Husky, and even if you are, we strongly urge you to visit our Links page. There we provide excellent resources for learning about the characteristics of the Siberian Husky.
Adopting a friend
So why do Siberian Huskies have special needs? Like many breeds, they have their little quirks and idiosyncrasies. Any prospective Siberian owner needs to be aware of these before making the long-term commitment to a dog. It is a long-term commitment, too. Dogs can live 15 to 20 years. During that time they will need medical attention, high-quality food, an appropriate home environment and, most importantly, love.

SAVE YOURSELF SOME FRUSTRATION, PLEASE READ CAREFULLY:

ALL dogs will be spayed or neutered prior to adoption. ASHRA will not adopt out an unaltered animal, period, so don't bother asking! Vaccinations are also included. We require an adoptive home to have a yard with at least a 6' fence around it, preferably with a dog door. If you do not have a fenced yard - you will NOT qualify for adoption. You must be in your majority (not a minor) to adopt a Siberian Husky from ASHRA. Please read our Adoption Requirements.
Training Your Adopted Husky
You and your family may find it beneficial to invest in some training for the new member of your pack. ASHRA works with several trainers and different styles of training. Here are a few that we recommend.
Bad Dogs to Glad Dogs (Pierce Russell) 602-955-1615
Come Visit Us Online!
Visit us online at : Arizona Siberian Husky Rescue & Adoption


---
Arizona Siberian Husky Rescue Adoption Inc.
P.O. Box 14801
Scottsdale, AZ 85267

Phone: 602-427-7226

Email: info@ashra.org
Click here for a list of pets at this shelter

---

[Home] [Information] [Shelters] [Search]