City of Osceola Animal Shelter
---
Our Featured Pet...
BRANDY!!!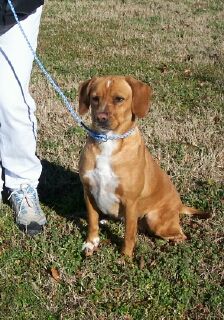 News
Please come out and see all our great animals that are looking for their Forever Homes!!!! Reminder when your pet receives their annual Rabies vaccine it is also time to have their City Animal License renewed. These can be purchased at the Shelter or at City Hall. Click here to see our Happy Tails!
Who We Are
The purpose of the Osceola Animal Shelter is to provide essential animal services to the City through enforcing State Law and City Ordinances. We are a municipal animal control shelter that works in coordination with volunteers dedicated together to place unwanted animals into responsible homes, return lost animals to their owners, and reduce the number of animals which must be humanely euthanized. Funds provided by the City are supplemented by public donations. Items that are always needed: Cat Food Cat Litter Cat Toys Dog Chews Towels, Sheets, Rugs and Kuranda dog beds. Go to to Kuranda website at http://www.kuranda.com/shop/donate.asp to purchase. Items can be dropped off at the Shelter or at City Hall. VOLUNTEERS!!!! As of March 1, 2012 we are actively seeking volunteers for the shelter to help with walking, bathing and socializing animals. We also would love help with fundraising, special events, helping with building upkeep (both inside and out), taking pictures of animals for posting, helping maintain our websites and transports. If you are interested please pick up a volunteer application at City Hall from Jane. You must be at least 18 years of age.
Adopting a friend
If you are interested in adopting an animal please call 870-622-0739 for information regarding an application, adoption fees and procedures or to answer any other questions you may have. Our adoption costs are $30.00 for a dog and $20.00 for a cat. Animals are spayed/neutered, current with vaccines and wormer.
Come Visit Us!
Our shelter is located at 2501 W. Semmes in Osceola.
---
City of Osceola Animal Shelter
P.O. Box 443
2501 W. Semmes
Osceola, AR 72370
Shelter hours: Monday-Friday 9:00 am until 4:00 pm

Phone: 870-622-0739 or 870-563-5245

Email: janes@osceolalightandpower.com
Click here for a list of pets at this shelter

---

[Home] [Information] [Shelters] [Search]