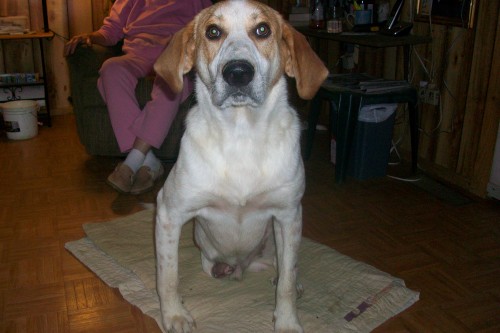 My sister Mildred called today and in our conversation, I told her about the new dog God had placed in my path.
She seemed moved by the story and asked me to send it as an email to those I thought might be interested.
Here is the story, A Dog Named Bo.
The name Bo just came to me and seemed to fit the big raw-boned hound dog with the huge sad eyes, but happy tail.
I felt I needed to give him a proper name. Decided on Bo Diddle, but will call him Bo.
We found Bo limping along the highway five weeks ago. He looked miserable and was half starved and so pitiful.
My granddaughter put him in the back of the little truck and we brought him home.
He could not move about too well, and I made him as comfortable as I could, and poured the food to this beautiful creature of God.
Never had I seen such a gaunt animal as he was. He seemed able to eat only soft food, and I later learned that
he had a huge abscess in his neck which burst a few days later. I know that must have been terribly painful.
The next day, a dear friend, Jackie, came out and took him to the vet in Harrison. The doctor said he had a broken leg, obviously an old injury some time back.
Most likely, he was hit by a car. The vet anesthetized him and put a pin in his leg and left it for four weeks;
but the pin did not hold, and he said he would have to amputate the leg, as it was no good at all and holding him back from enjoying any kind of life.
The two surgeries were very expensive, and the rescue people who are named Castaway Critters, are trying to pay for it by having fund raisers and contributions from kindly people.
They can be found on line and are a young group who care so much for animals. They have adopt-a-thons weekly to find good homes for their "castaways."
The vet is excellent to work with them. They make certain that all are spayed and neutered when they are adopted..
Jackie brought Bo to me from the doctor's office and he was walking with a limp, but still wagging his long tail as if to say, "Just look what they have done to me."
I fought back tears of compassion. I hugged him and promised I would take care of him until they could find him a good home of caring people.
If not, I would keep him and love him, and he would be another member of our animal family..
It wasn't easy as I cringed and had a ache in my stomach when I looked at the foot long incision and his swollen underparts.
But I trusted God to help Bo and me get through this and to please heal Bo so he could run and play.
Three days after the devastating and heart rending surgery, Bo was running as though he had four legs. Walking was a bit different as he limped but each day,
he walked a bit better and fell down less. Even when he fell, he quickly got up, almost embarrassed
that I had seen him fall, but still wagging his tail as he got to his feet.
It took him only a couple of days to come up the steps into the house and to use the pet door to get in and outside when he wanted to.
I don't believe he had lived in a house as he is still astounded at things like the television,
that big white thing where I keep the goodies for he and the others and the soft pallet of his very own.
I gave him strong antibiotics and the swelling soon went down, but still his underparts were raw looking and he licked them a lot..
When he seemed unable to stop licking, I would give him a chewy to take his mind off it.
Well, the other four wanted a chewy, too, and so it goes. They went through a lot of chewys the first few days.
Bo is definitely an inspiration and gives me so much joy to see how he is coming along on his three legs. Such a gentle spirit and so happy.
His "surrogate" siblings are very understanding of his condition, it seems. Even the three cats seem concerned.
And also the blind dog, Lady, feels his dilemma. He has the look of "My ,isn't this a beautiful world?"
So laid back and eager to be a part of everything. He just seems excited about life.
There are those who might wonder why an old lady like myself takes in all these abandoned and unloved creatures of God, but it doesn't matter.
What matters is that I am doing what I can for His animal children. I care for them and love them
and in return, they love me unconditionally. What more thanks could I want.
Thank you for allowing me to share my story, A Dog Named Bo.

---