Mobile SPCA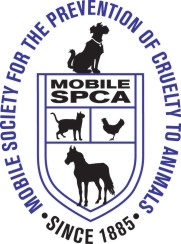 Mobile SPCA
See a pet you would like to adopt? Click here to visit the Mobile SPCA home page and download an adoption application!

Adoption Dates and Locations

Hours of Operation
Tuesday, Wednesday and Friday 9 to 5:30, Thursday 9 to noon and Saturday 9:00 am - 3:00 pm. We close for adoptions on Saturdays at 12:00 pm. CLOSED SUNDAY AND MONDAY

WHO WE ARE: The Mobile SPCA

The Mobile Society for the Prevention of Cruelty to Animals is a non-profit organization dedicated to the welfare of animals. The Society is funded by individual donations, wills, bequests, memberships and through fund-raising efforts. We do not receive any state or federal funding and are not a United Way agency.
OUR MISSION
Our mission is the prevention of cruelty to and the relief of suffering of animals.
OUR POLICY
In fulfilling this mission it is the policy of the Mobile SPCA to promote adoption of shelter and homeless animals and to end the deaths of healthy and treatable shelter animals by 2015; to provide humane care and treatment for animals entrusted to us; to investigate animal cruelty and neglect; to spay or neuter all animals we offer for adoption; to promote and to aid financially spay/neuter in the community; to aid in rescuing animals in emergency situations; to assist in special financial animal-related hardship cases; and to offer educational programs for children and adults.
THE HISTORY
The Mobile Society for the Prevention of Cruelty to Animals was founded in 1885 at Temperance Hall in the Port of Mobile (Mobile, Alabama) with thirteen of Mobile's most prominent men as charter members. Rufus Dane was the first president. The fledgling Mobile SPCA was very active in establishing the first animal welfare laws, protecting the public from rabies and dealing with the first issues of animal control. Julius Ducournau was the city's first humane officer. In the 1950's, Laura Jackson was elected the first female president of the Mobile SPCA and was instrumental in getting the first animal shelter built in Mobile. A stained glass window in honor of Ms. Jackson and her dedication to the animals hangs in Christ Episcopal Church, circa 1838, in downtown Mobile. After her death, her daughter Laura Jackson Corley became president. In 1976, the organization found itself with officers and members with an average age of 80 years old and needed younger members to run the organization. In that year the SPCA merged with the Animal Protection Society. The Society's first office was located on Old Shell Road across from the Dew Drop Inn. It was opened in the summer of 1976. Ten years later, the organization moved to larger quarters on Springhill Avenue and remained there until 1990. In 1990 the Board felt it was time to purchase property and the Glenwood location was purchased. The organization remained on Glenwood Street until October 2000 when it purchased a larger property on Zeigler Circle West. The move has allowed the Society to broaden the scope of it's projects and services and facilitate more adoptions. The Mobile Society for Prevention of Cruelty to Animals is a non-profit humane society and is one of the oldest continuously operating charitable organizations in Alabama.


SPAY/NEUTER ASSISTANCE
Pet overpopulation continues to be a major problem in Mobile and Mobile County. The Mobile SPCA works to educate pet owners about the importance of spaying and neutering their pets. Many pet owners have refused to have their animals spayed or neutered because of the expense involved or because they are not aware of the health and behavioral benefits associated with spaying and neutering. If you qualify, the Mobile SPCA offers spay/neuter assistance with financial and transportation needs for pets that have not been adopted through our organization. For more information on Spay/Neuter contact the SPCA office at 633-3531 or download an application at mobilespca.org.
PLACEMENT SERVICES

As well as the animals listed here, the Mobile SPCA participates in the PetSmart LOV-A-PET Adoption Center. We also maintain lists of people who have pets for adoption and individuals who want pets. With these lists, our PetSmart affiliation and our adoption clinics we have been successful in placing many animals in caring homes.
HOW YOU CAN HELP
Because of the variety of programs managed by the SPCA, volunteers are absolutely critical. Funds required for rescue and medical expenses, educational materials and spay/neuter assistance are vital as well. You, too, can help with your concern, time and energy, donations and resources. All of these keep the Mobile SPCA running and are necessary if the Society's projects are to be successful.
JOIN US, Together We Can Make A Difference
The volunteers of the SPCA work to assist individuals and agencies to make Mobile and Mobile County a better place for people and pets. Join us: give your time and your contribution so the Mobile SPCA can continue to educate and provide the many services not readily available elsewhere. The Mobile SPCA, a no kill adoption guarantee human society, is a non-profit organization and all donations are tax deductible. To become a member of the Mobile SPCA, please visit our website www.mobilepca.org or call 251-633-3531 for a membership brochure and volunteer packet.


ADOPTING A FRIEND
Adoption fees for animals in our custody:


Adoption fees vary. Adoption fee includes:

A vet check with age appropriate shots, testing for parasites and deworming, testing for heartworms (dogs) testing for feline leukemia virus (cats), rabies vaccination (for animals 12 weeks and older), spay or neuter and microchip. Some pets may require booster vaccines!
Adoption Policy
All of the SPCA pets have been spayed or neutered before adoption, have age appropriate vaccines, and have been dewormed at least once. The Mobile SPCA is a no-kill adoption guarantee humane society. Not all pets featured here are in our custody. Some pets are in foster homes, veterinarian's care, kennels and private homes. Some of these pets have not been vet checked before being listed here. The animals in our custody will be vet checked and altered before they are released to their new home and the adoption fee is paid. Adoption of animals that are not in our custody are via referrals from the Mobile SPCA and are at the discretion of the owner. No adoption fees are charged.
THE MOBILE SPCA RESERVES THE RIGHT TO REFUSE ANY ADOPTION. ADOPTIONS MAY BE SUBJECT TO A WAITING PERIOD. YOU MUST BE AT LEAST 21 YEARS OLD.
The Mobile SPCA reminds you that a pet is a member of your family and you must consider carefully before you adopt a pet whether you are willing to make the sacrifices necessary to care for the animal responsibly for the rest of its life. With proper care many pets live fifteen years or longer. Please consider the cost before you make the decision to take on the responsibility of owning and caring for a pet. Veterinary care, annual checkups and vaccinations, parasite and flea control and proper nutrition are expensive and you must consider these costs before adopting. A companion animal is a commitment that should last for the lifetime of the pet. Come Visit Us! We have cats in the PetSmart store located in the Pinebrook shopping center in Mobile, and a limited number of cats at the Mobile SPCA office at 620 Zeigler Circle West in Mobile. We have dog adoption clinics at least twice a month at PetSmart or other locations in Mobile. If you are interested in an animal listed here, please call us at 251-633-3531 and make arrangements to meet the pet.


Come Visit Us!
If you would like to visit the office we are west of the Greater Gulf State Fairgrounds off of Zeigler Boulevard on Zeigler Circle West.
---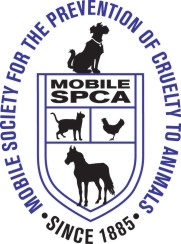 Mobile SPCA
620 Zeigler Circle West
Mobile, AL 36608
Phone: 251-633-3531
Email: spca@mobilespca.org

Map to our shelter

Click here for a list of pets at this shelter
---

[Home] [Information] [Shelters] [Search]