They come to us in so many ways: abused, abandoned, hurt, sick, lost, unwanted & unloved. Your support means so much. A sanctuary for the homeless, Rescue K911 is dedicated to providing food, medical care & shelter, along with caring hearts & loving arms. Giving each one another chance at life and love. Making a difference, one precious life at a time.



WE ARE RESCUE - Kathie Sullivan Parkes

Until you have held a tiny puppy in your arms as it kissed your face with slobbery puppy breath and felt the love,

Until you have held an injured or severely ill dog in your arms and felt their pain,

Until you have looked into the eyes of a tired aging senior dog and felt their wisdom,

And until you have seen and understood the look in your dogs eyes that tell you their time on earth with you is over and you humanely let them go,

You will never understand the life of a rescuer. We find beauty in the most incomprehensible places and the otherwise homely faces.

It is our gift to see beyond the dirt, terror, sadness and defeat and find the true soul that lies within.
About Rescue K911
Rescue K911 is a non-profit, no-kill organization dedicated to reducing overpopulation, abuse and neglect of domestic animals. Rescue K911 is run entirely by compassionate like-minded professionals who volunteer their time and resources to help save the lives and then care for these animals. Since 1997, we have successfully placed over 1,000 animals in loving homes.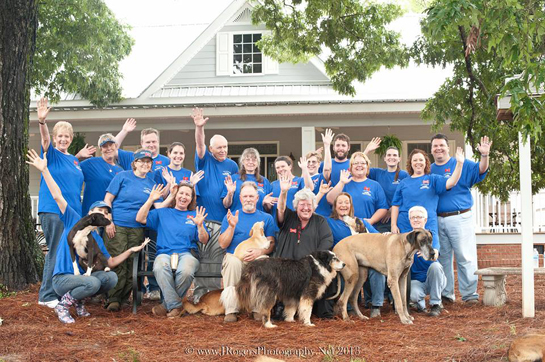 Rescue K911 sits across a 7 acre site in Camp Hill Alabama where we not only provide necessities such as food, shelter and medical care for our rescued dogs, but also the loving arms of people who genuinely care about these animals. On any given day you may find between 100-120 rescued dogs of all ages, sizes and breeds. We actively search out suitable homes for these dogs, by listing them on our website and petfinder.com. Our screening process includes an in depth application, reference checks, and a home visit to ensure the home and family is compatible with the pets needs and our requirements. We ask adoptive owners to sign a detailed contract obliging them to give the animals a loving home.
Rescue K911 also actively educates our community about spaying and neutering their pets. We provide financial aid to individuals who need help spaying or neutering their pets. This is one of our greatest missions.
To find out more about us, visit our website at

www.RescueK911.com

.