Saving Paws
---
Our Featured Pet...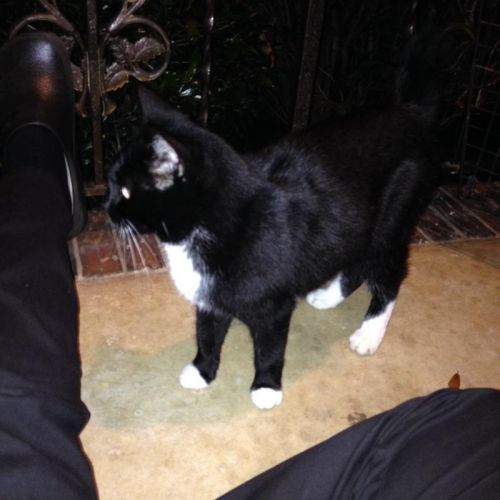 Hi there, My name is Bobbi, I need a loving home, where I can be inside, I wandered up to this lady's home where she has been feeding and taking care of me. She is not sure where I came from but it is evident that I had been an inside cat. Please, if your interested email tracyhill0525@gmail.com for an application.
News
We are a Non Profit 501(C3) organization. Any donations are now tax deductible. WE CANNOT TAKE IN ANYMORE ANIMALS AT THIS TIME.
Who We Are
We are a group of people that is a volunteer-run organization wanting to make our mission to finding homes for animals that have been neglected, abandoned, abused or fallen victim to other situations in their lives. We want all of our rescued animals to have the best quality of life possible, along with medical care, patience, understanding and lots of love. We do hope that you will support us in our mission whether it's by donating, recommending us to your friends, becoming a foster home or volunteer. The rescued need all the help they can get. We are not state funded or have any assistance. All expenses are paid for by us and adoptions. If you are interested in donating, whether it is financially or any type of supplies, please email us.
Adopting a friend
Our adoption procedure is having one fill out an application, doing a home visit, check vet references on presently or previously owned pets and a signed contract. WE DO NOT DO OUT OF STATE ADOPTIONS. Why an adoption fee? (shouldnt you just give the dogs away)? Saving Paws Rescue works with a local animal hospital in the area who provides their services at a reduced cost. Veterinary costs, even with the discounts we are afforded, often surpass the adoption fee collected on each dog. Some of our dogs come into foster care requiring added procedures such as heartworm treatment, dental treatment, and professional grooming or boarding while a foster home is traveling. *If an adoption fee is too expensive for an adopter, they might want to consider if owning a pet is really the best option for their family.
Until you have held a tiny puppy in your arms as it kissed your face with slobbery puppy breath and felt the love, Until you have held an injured or severely ill dog in your arms and felt their pain, Until you have looked into the eyes of a tired aging senior dog and felt their wisdom, And until you have seen and understood the look in your dogs eyes that tell you their time on earth with you is over .... and you humanely let them go, You will never understand the life of a rescuer. We find beauty in the most incomprehensible places and the otherwise homely faces. It is our gift to see beyond the dirt, terror, sadness and defeat and find the true soul that lies within. We Are Rescue Author Unknown <!->

---


Saving Paws

Birmingham, AL 35023
Email only

Email: kbailey772@gmail.com
Click here for a list of pets at this shelter


---





[Home] [Information] [Shelters] [Search]