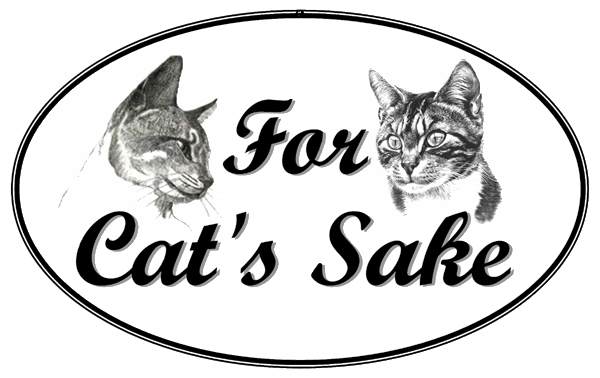 Click here for a list of pets at this shelter



An Old Cat's Dying Soliloquy- Dedicated to cat caretakers.-Mary
~Anna Seward~(1747-1809)

Years saw me still Acasto's mansion grace,
The gentlest, fondest of the tabby race;
Before him frisking thro' the garden glade,
Or at his feet, in quiet slumber laid;
Prais'd for my glossy back, of zebra streak,
And wreaths of jet encircling round my neck;
Soft paws, that ne'er extend the clawing nail,
The snowy whisker, and the sinuous tail;
Now feeble age each glazing eye-ball dims,
And pain has stiffen'd these once supple limbs;
Fate of eight lives the forfeit gasp obtains,
And e'en the ninth creeps languid thro' my veins.
Much sure of good the future has in store,
When on my master's hearth I bask no more,
In those blest climes, where fishes oft forsake
The winding river, and the glossy lake,
There, as our silent-footed race behold
The crimson spots, and fins of lucid gold,
Venturing without the shielding waves to play,
They grasp on shelving banks, our easy prey:
While birds unwing'd hop careless o'er the ground,
And the plump mouse incessant trots around,
Near wells of cream, that mortals never skim,
Warm marum creeping round their shallow brim;
Where green valerian tufts, luxuriant spread,
Cleanse the sleek hide, and form the fragrant bed.
Yet, stern dispenser of the final blow,
Before thou lay'st an aged grimalkin low,
Bend to her last request a gracious ear,
Some days, some few short days to linger here;
So to the guardian of his tabby's weal
Shall softest purrs these tender truths reveal:
"Ne'er shall thy now expiring puss forget
"To thy kind care her long-enduring debt,
"Nor shall the joys that painless realms decree
"Efface the comforts once bestow'd by thee;
"To countless mice thy chicken-bones preferr'd,
"Thy toast to golden fish, and wingless bird;
"O'er marum borders, and valerian bed,
"Thy Selima shall bend her moping head,"
"Sigh that no more she climbs, with grateful glee,
"Thy downy sofa, and thy cradling knee,
"Nay, e'en at founts of cream shall sullen swear,
"Since thou her more lov'd Master, art not there."
PetMeds

Who We Are

"FOR CAT'S SAKE SANCTUARIES"

WE HAVE REACHED FULL OCCUPANCY.


We are deeply dedicated to the care and well being of our cats.  All cats have been spayed or neutered, tested and given shots."For Cat's Sake"  provides a healthy clean environment where our cats are given the freedom to interact with one another.  Ill cats are isolated from healthy cats but are kept in comfortable quarters. Life-long loving care is given to our feral cats and pet quality cats who over time have not been fortunate enough to be adopted.
Adopting a friend
OUR GOAL is to re-home our rescued pet quality cats/kittens.
Adoptions
Fees: cats or kittens      $100.00

*SENIORS 4 SENIORS ADOPTION PROGRAM
    
3 Health Reasons Why Pets Are Great for Seniors:
    
1. Less Depression: Studies show that seniors with pets do not become depressed as often as those without pets.
2. Pets Fight Loneliness:  You are less likely to be lonely with a pet friend around.
3. Pets Lower Blood Pressure:  A study of health patients showed that people over 40 who own pets had lower blood pressure than people who did not have pets.

3 Reasons to adopt an older cat:

1. Adult cats sleep more, play less, and require less supervision.
2. Adult cats typically are not as destructive as a kitten. 
3. It might be their last chance!  Many adult cats end up in shelters due to no fault of their own.  Older cats sit by and watch, as one family after another passes them over for a cute kitten.

Senior citizens age 60 and older  can adopt their new For Cat's Sake Senior/Mature  feline companion (age 7yrs and older) for ( $5.00. )

* For Cat's Sake adoption contracts still apply.
     
When adopting, please consider those cats who are so often overlooked....

Black cats
Black and white cats
Mature cats
Very shy cats


*LONELY HEARTS CLUB ADOPTION PROGRAM
Some cats have a difficult time finding homes.  Maybe because of their color, shyness, etc.  To improve the chances that they find homes, we have reduced our adoption fee to $40.00 for the following
"LONELY HEARTS CLUB MEMBERS"
1.  Falling Star
2.  Jelly Bean
3.  Maha
4.  Mandy

* For Cat's Sake adoption contracts still apply.
    Cat's Sake" offers Huntsville residents in-home adoptions (we will visit your home with several cats for you to check out in the privacy of your home-no obligation to adopt.)
Adoptions:
1. Fees: cats or kittens $100.00
2. You must have proof that your landlord/home owners assoication allows you to have cats (if applicable)
Come Visit Us!
We do not have a shelter, please email us at: marycats@nehp.net OR write to us at P.O. Box 327 Owens Cross Roads, AL. 35763-0327 ,,if you are interested in adopting one of our cats.
---

[Home]  [Information]  [Shelters]  [Search] 


For those interested in the "No Kill Movement", Please read,
Redemption: The Myth of Pet Overpopulation and the No Kill Resolution in America by Nathan J. Winograd (author).
 For quick reference print out Winograd's "The No Kill Equation"

We appreciate your interest in our passion and encourage you to do your part by reaching out to animals in need.