Hi! My name is Saddle & I`m ready to find my forever home. I`m already neutered & up to date on shots. Take me home today! I love to be petted and would make a great companion. I`m looking for an inside home to keep me safe.

Call PAWS 256-383-0690



To adopt this wonderful pet, complete our online application at: http://shoalspaws.com/adoption/adoption-application/ Once we receive your application, our adoption counselor will review it and contact you as soon as possible. Our adoption fees are: $100.00 for mixed breed puppies/dogs and $175.00 for purebred puppies/dogs; $75 for cats.


Please call PAWS today for more information! 256-383-0690. Adoption fee is $100.00. To adopt this sweet girl, Please complete our ONLINE ADOPTION APPLICATIONor call PAWS today! 256-383-0690
---
Who We Are
Pets Are Worth Saving, Inc. (PAWS) is a 501(c)(3) non-profit, all volunteer, no-kill organization dedicated to rescuing dogs and cats in need, rehabilitating if necessary, and then adopting to approved homes where they will be loved as part of a family. We also encourage responsible pet care and strive to increase awareness of the consequences of pet overpopulation through educational programs and materials. We do not operate from a shelter but rather a network of foster homes. The foster home setting allows us to better evaluate the animals and help them adjust to family life. The more foster homes we have, the more animals we can save!
PAWS was founded by compassionate citizens of our community that want to end the plight of abandoned and abused companion animals. The number of adoptable companion animals euthanized in local county and public shelters is staggering--Over 6000 killed per year just in the Shoals area due to overpopulation. The solution is simple-Spay/Neuter all companion animals and ADOPT from shelters and rescue groups.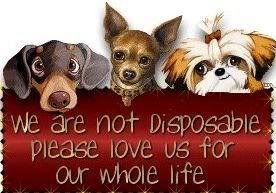 PAWSĺ long-term goal is to establish a no-kill community in NW Alabama. This can only be done through the cooperative efforts of the community, area businesses, rescue groups, local shelters, and local goverments.
---
ADOPTING A FURRY FRIEND
Adopting a pet is a lifetime commitment and is a responsibility that should be taken very seriously. Our dogs/cats may have been lost, abandoned, abused or surrendered by a previous family and may require time to adjust to a new home. Many times there will be more than one application for an animal but we strive to match each with the most appropriate family.
Filling out an ONLINE ADOPTION APPLICATION is the first step in adopting a new furry family member. Once your application is received, it will be forwarded to our adoption coordinator who will call you to review your application, check your references, and set up a home visit . Once you are approved for a dog/cat, you will be invited to meet the dog/cat at a date and time convenient to the foster family or at an adoption event. It is very important that you read and understand the ADOPTION CONTRACT prior to adoption.
Our goal is to place healthy, well-adjusted animals. All of our dogs/cats are vet checked including spayed or neutered; heartworm tested/FeLeuk-FIV tested, on heartworm preventative or treatment started if HW positive; up to date on vaccinations (rabies, puppy/kitten shots, annual vacc); placed on flea/tick preventative; dewormed and provided with any other medical care necessary (dentals, surgeries, etc). All dogs/cats are microchipped for permanent identification. All vet records are provided to the adopter at the time of adoption or mailed as soon as possible following the adoption. Our adoption fees help offset these veterinary expenses.
Adoption fees are:
$100 for mixed breed puppies and dogs/$175 for purebred puppies and dogs
$75 for mixed breed kittens and cats/$100 for purebred kittens and cats
Each animal also comes with one month of pet insurance. Our adoption contract allows for a dog/cat to be returned within 30 calendar days for a full refund regardless of the reason; otherwise, all donations are non-refundable after that time. If for any reason you decide you can no longer keep your adopted dog/cat, the dog/cat MUST be returned to PAWS.

TOP 10 REASONS TO ADOPT A SENIOR DOG
1. Adopting a senior dog, saves a life. ôBlessed is the person who has earned the love of an old dogö. -Sydney Jeanne Seward
2. Senior dogs love to sleep the day away and enjoy a nice walk, but the best part of their day is being with you.
3. When you rescue a senior dog, you have a best friend forever.
4. Senior dogs reward your care with everlasting devotion. Nothing matches the love of a senior dog for his/her rescuer.
5. Senior dogs have learned many of the lifeĺs lessons. They know that shoes are for walking and toys are for chewing.
6. Senior dogs know that the outdoors is for potty and the house is for relaxing. Your carpet will last longer with senior dogs.
7. Senior dogs can learn new tricks and make excellent therapy dogs.
8. Senior dogs often fit into your home with ease. They find the best spot in the house and claim it for their own, but they will share it with you too.
9. Senior dogs make great companions for anyone, especially senior people.
10. Seniors donĺt have a chance in shelters and are the first to be euthanized to make room for the younger dogs.

---
HOW YOU CAN HELP
Foster Homes and other Volunteers needed!! /
BECOME A FOSTER PARENT!! Foster homes are such a vital part of our organization since we operate through a network of foster homes rather than a shelter facility. One person CAN make a difference in the life of a animal. The more foster homes we have, the more dogs and cats we can save. Sometimes it may be hard to let go when an adoptive family is found; however, it is very emotionally rewarding to know that you have helped save the life of the dog or cat you foster. Please consider opening your heart and home to a dog or cat while it waits for its "forever family".
Becoming a foster parent is EASY and the biggest way that you can help. First, complete our ONLINE FOSTER APPLICATION and then a volunteer will contact you for a home visit. At that time, we will go over what is involved with being a foster home and discuss how involved you would like to be in the adoption process. Once you have your foster animal, it is important to be patient and allow time to adjust to the new surroundings. As a foster parent, you will play an important part in a successful adoption by observing the habits of the animal and helping to determine the type of home that would be best suited for the dog/cat.
PAWS covers all medical needs and can provide a crate and food if needed. The foster family only needs to provide LOVE!. Help make a difference today!! Remember, "Saving one dog/cat may not change the world, but it will change the world for that dog/cat!"
VOLUNTEER TO HELP!
We could not operate without the hard work and dedication of volunteers who want to help make a difference. If you are interested in volunteering, find out HOW YOU CAN HELP in other ways and complete our online Volunteer Application.
>SPONSOR A DOG OR CAT. If you are unable to adopt at this time, why not consider sponsoring a dog/cat while it waits for it's forever family? As a sponsor, you will make a donation on behalf of a certain dog or cat and these monthly donations, no matter how small, help with everyday expenses such as heartworm and flea preventative and are especially helpful for special needs animals that require extra vet care. SPONSOR A DOG OR CAT You can even sponsor a dog/cat "In Memory of" or "In Honor of" a special person or pet.
>PROVIDE TRANSPORTATION: Animal transport to/from veterinarians, shelters, foster homes, other rescue groups (requires out of state travel), adoption events, etc. hauling pet food and other supplies from donation centers (truck or large van may be required).
>MAKE A TAX DEDUCTIBLE DONATION. PAWS is a 501c3 non-profit organization operated solely from donations, fundraisers, merchandise sales and occasional grants; therefore, your donations are tax deductible. If you would like to send a donation, please mail your check to: PAWS, 2701 MALL RD PMB 277, FLORENCE, AL 35630 or you can pay electronically with your checking account or credit card using PayPal. You can specify if you want your donation to go to the FOSTER/RESCUE PROGRAM , SPAY/NEUTER PROGRAM , TNR PROGRAM (Trap-Neuter-Return) , or EMERGENCY MEDICAL FUND .
>DONATE ITEMS FROM OUR WISH LIST: Esibilac or KMR Formula, Animal baby bottles, Electric heating pads, blankets and towels, Dry puppy/kitten chow, Shallow food dishes, Crates of all sizes (wire or plastic), Exercise pens, Tarps, Puppy pads, Non-clumping litter. Litter boxes, Leashes/Collars, Heartguard/Interceptor, Advantage/Frontline/Revolution, Dog/Cat Beds Dog/Cat Toys, Scratching Posts, Office Supplies (Postage Stamps, Printer Ink, etc.), Gasoline Gift Cards for our trips to pick-up and transport dogs/cats to the vet or other rescue groups


Come Visit Us!
Shoals Paws
---
PAWS (Pets Are Worth Saving)
2701 Mall Road
PMB 277
Florence, AL 35630
Phone: 256-383-0690

Email: PAWS
Click here for a list of pets at this shelter

---

[Home] [Information] [Search]