Clear Creek Cat Rescue (CCCR)
---
Our Featured Pet...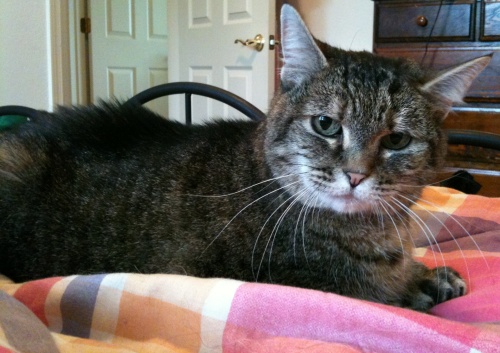 Celeste is a fabulous little 4yr old girl that is in need of a great new home. She is good with other cats and is good with dogs and kids. Celeste is a playful little girl and loves lazer lights and fuzzy mice. She is affectionate but not overwhelming in the least. The perfect cat for someone that wants a cat but doesn't want a pushy one. She would love to find a home with a safe place for her to venture outdoors in the summers and maybe with a kitty friend. If you are interested in Celeste please give us a call!!!



*More Available Animals*

Click Here To visit our website for more of our available cats, as well as cats that are currently at the Mat-Su Shelter in need of rescue.
*Adoption Fairs*

We hold adoption fairs every week in Anchorage and Wasilla. This is a great time to come out and meet many of our wonderful cats. Saturdays from 12-3 we will be at the Anchorage PetZoo on Diamond. Sundays from 12-3 (sometimes 4) we will be at the Wasilla PetZoo.


*News*

CCCR is now an official 501c3 rescue!! Any donations received January 23, 2010 or later are TAX DEDUCTIBLE. This also means that we can solicit more donation and grants, which will help us save more cats from the shelter!


*Who Are We?*

Clear Creek Cat Rescue is a group of individuals in Southcentral Alaska dedicated to rescuing cats in need and finding happy homes for them. We each give what we can to help these cats get through this most unfortunate time in their lives when they have been taken to the pound or are otherwise lost and homeless. Some of us share our homes with these cats while they are waiting for their forever family, some transport them from place to place, some take pictures and some post ads. Some offer financial help. We each do what we can to help. And through this dedicated group of people, many cats have been saved and found loving homes.


*What Do We Do? *

Clear Creek Cat Rescue was founded to help find homes for the Mat-Su Animal Shelter's cat population. Cats that are unable to be adopted from the Mat-Su shelter because of illness or other issues are rescued by Clear Creek and given the extra love and care that they need, and when ready, placed into a forever home to be part of a family. Clear Creek Cat Rescue also rescues cats that have run out of time at the Animal Shelter, and gives them the extra days or weeks they need to find their purrfect home. CCCR sometimes accepts cats from private individuals and other rescues when there is a need.


*Requirements for Adopting: *

CCCR is NOT an advocate of indoor-only cat care. We believe that cats need and have the right to the outside as much as humans and dogs. We therefore require adopters to provide a safe place for their new family member to go outside. However, we do get cats in that show no desire to go outside and would be fine as indoor only cats. *Please note that because declawing is a painful and unnecessary procedure which has no benefit to the cat, we will NOT adopt cats to anyone who would declaw the cat**


*How to Adopt:*

If you are interested in adopting a cat from us, you must be able to meet the requirements listed above. You can then attended one of our adoption fairs (See Adoption Fairs section above for current times and locations), you can email clearcreekkitties@gmail.com or you can call (907) 315-0621. The more information you are able to provide us about your living situation and your other animals, the easier it will be to find the cat that will work best in your home.


*Adoption Fees:*

Adult Cats are $75 which include their spay/neuter, shots and microchip. Kittens are $120 which include their first shot, de-worming and their spay/neuter. Kittens not yet old enough to be fixed will have a prepaid appointed made at the SPCA (or vet of your choice) before they are adopted out.
---
Clear Creek Cat Rescue (CCCR)
Anchorage, AK 99503
Phone: 907-980-8898

Email: clearcreekkitties@gmail.com
Click here for a list of pets at this shelter

---

[Home] [Information] [Shelters] [Search]